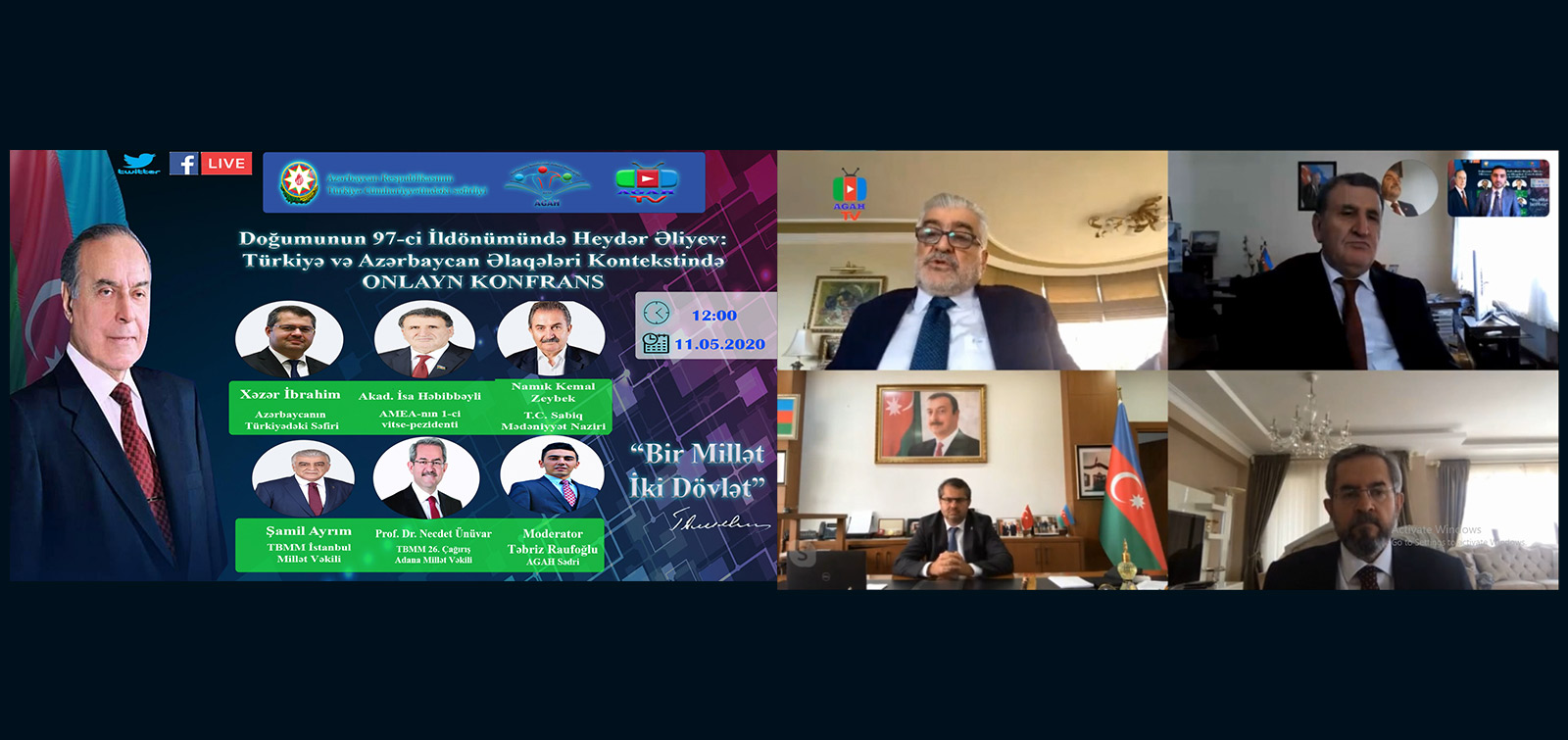 A video conference was dedicated to Heydar Aliyev, prominent personality in the Turkic world
A video conference dedicated to the 97th birthday anniversary of prominent political and state figure Heydar Aliyev was held on AGAH TV, the internet television of the Azerbaijan Youth Ankara Solidarity (AYAS) Public Union on the theme "Heydar Aliyev in the 97th anniversary of his birthday: in the context of Turkey-Azerbaijan relations"
The virtual event was organized by the Embassy of Azerbaijan to Turkey and AYAS Public Union. The conference was moderated by the Chairman of AYAS Tabriz Raufoglu and was attended by Azerbaijani Ambassador to Turkey Khazar Ibrahim, Chief Adviser and Minister of Culture during the rule of the 9th President of Turkey Suleyman Demirel Namik Kemal Zeybek, First Vice-President of the Azerbaijan National Academy of Sciences, Academician Isa Habibbayli, Member of the Health and Food Policy Council of the Presidential Administration of Turkey Nejdat Unuvar, head of the Turkey-Azerbaijan Interparliamentary Friendship Group, MP Shamil Ayrim.
Khazar Ibrahim, Namik Kemal Zeybek, Isa Habibbayli, Nejdat Unuvar and Shamil Ayrim shared their thoughts and memories about Heydar Aliyev, a prominent figure in the Turkic world at the conference, which began with the national anthems of Azerbaijan and Turkey.
Reminding that he began his diplomatic career during the presidency of national leader Heydar Aliyev, Khazar Ibrahim spoke about the story he witnessed while working at the Azerbaijani Embassy to the United States. He noted that, during the National Leader's visit to the United States, a well-known socio-political figure, diplomat Zbigniew Brzezinski shared his high impressions about Heydar Aliyev. The diplomat demonstrated Suleyman Demirel's thoughts on Heydar Aliyev from the embassy's memory book.
Namik Kemal Zeybek stressed that he was one of the first Turkish officials to meet Heydar Aliyev when he was chairman of the Supreme Assembly of the Nakhchivan Autonomous Republic. He noted that the study of this great person of the Turkic world began in the Soviet period.
At the conference, the speakers recalled that the relations established with Turkey and the protocols signed as a result of Heydar Aliyev's initiative played an irreplaceable role in the lifting of the blockade of Nakhchivan in the 1990s, the world's powerful leaders praised his personality and activity. They noted that, Heydar Aliyev rendered unparalleled services for the realization of the Baku-Tbilisi-Jeyhan oil pipeline project.
The video conference was broadcast live on Facebook and Twitter.