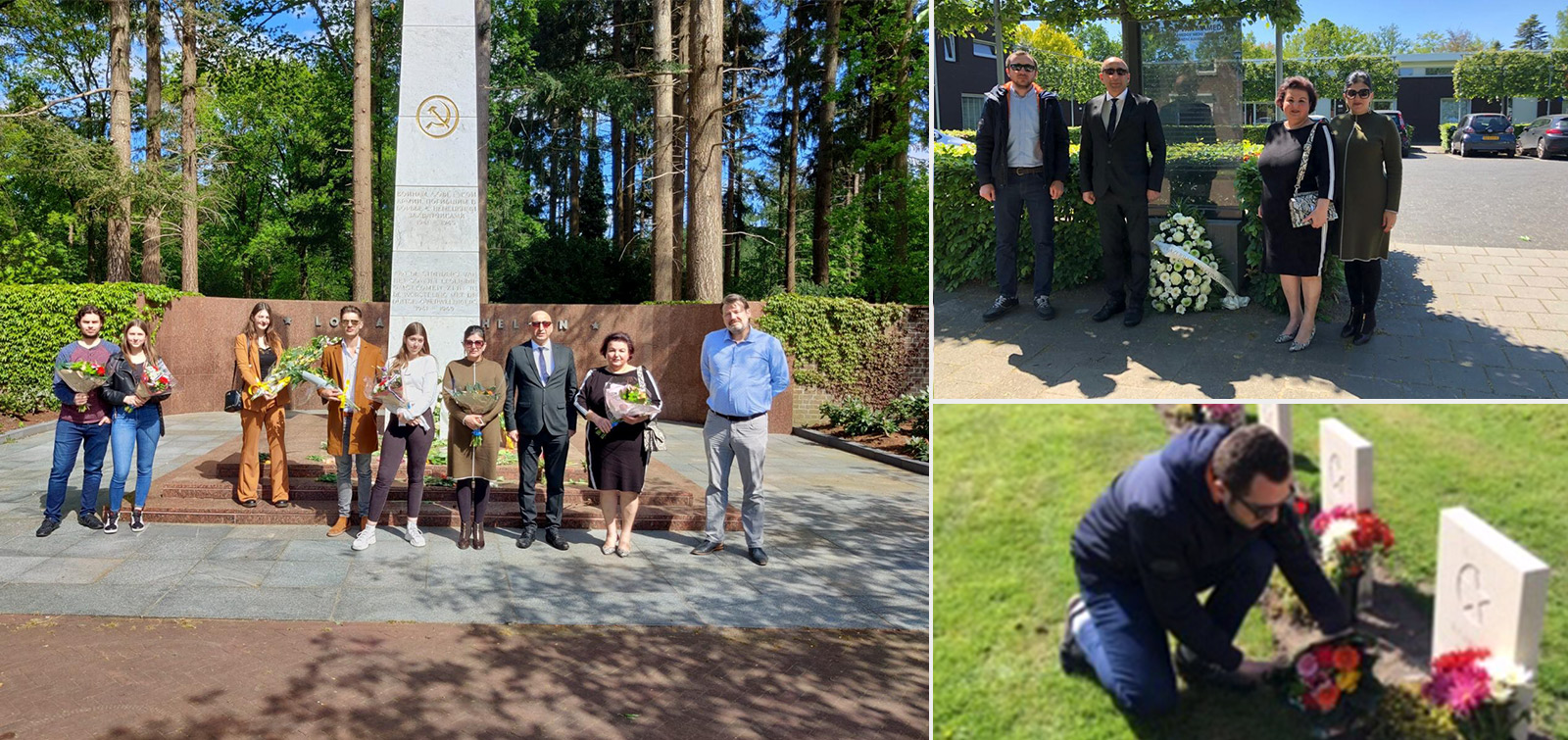 Freedom Day was celebrated in the Netherlands
On May 5, the 75th anniversary of the victory in World War II, Freedom Day (Bevrijdins Dag) was celebrated in a number of cities in the Kingdom of the Netherlands.
By the organization of the President of the European Azerbaijanis Congress (EAC) Sahil Gasimov, a group of young Azerbaijanis and Dutch citizens visited the graves and monuments of our young compatriots who took part in the resistance movement during World War II with the participation of Leyla Babayeva, Chairwoman of DUFOA (Dutch Friends of Azerbaijan) and Ofelya Babayeva, Chairwoman of the Assembly of Azerbaijanis of Brabant province.
Diaspora leaders and young people firstly commemorated the Azerbaijani National Hero of the Netherlands Mammad Mammadov (Medo). A wreath and flowers was laid in front of the monument erected in Oysterweik city, Brabant province in honor of our compatriot, and Mamedovpad Street, named after him, was visited.
Then they visited the Leusden Brotherhood Cemetery in Amersfoort, where Soviet soldiers were buried. 22 Azerbaijani soldiers are also buried in this cemetery. On behalf of the EAC, a wreath was laid in front of the Heroic Bas-relief in honor of the soldiers, as well as flowers were laid on the graves of 22 compatriots and fresh flowers were planted around it. The events were realized within the quarantine rules.
EAC President Sahil Gasimov delivered the greetings of Chairman of the State Committee on Work with Diaspora Fuad Muradov and congratulations on the 75th anniversary of the victory in World War II to Oysterweik Mayor Hans Jansena, National Hero Mammad Mammadov's daughter Nancy Doomen and other family members.
The leadership of the city of Oysterweik and members of Medos family asked to deliver their congratulations to the people of Azerbaijan, President Ilham Aliyev and First Vice-President Mehriban Aliyeva on the 75th anniversary of the victory in World War II.