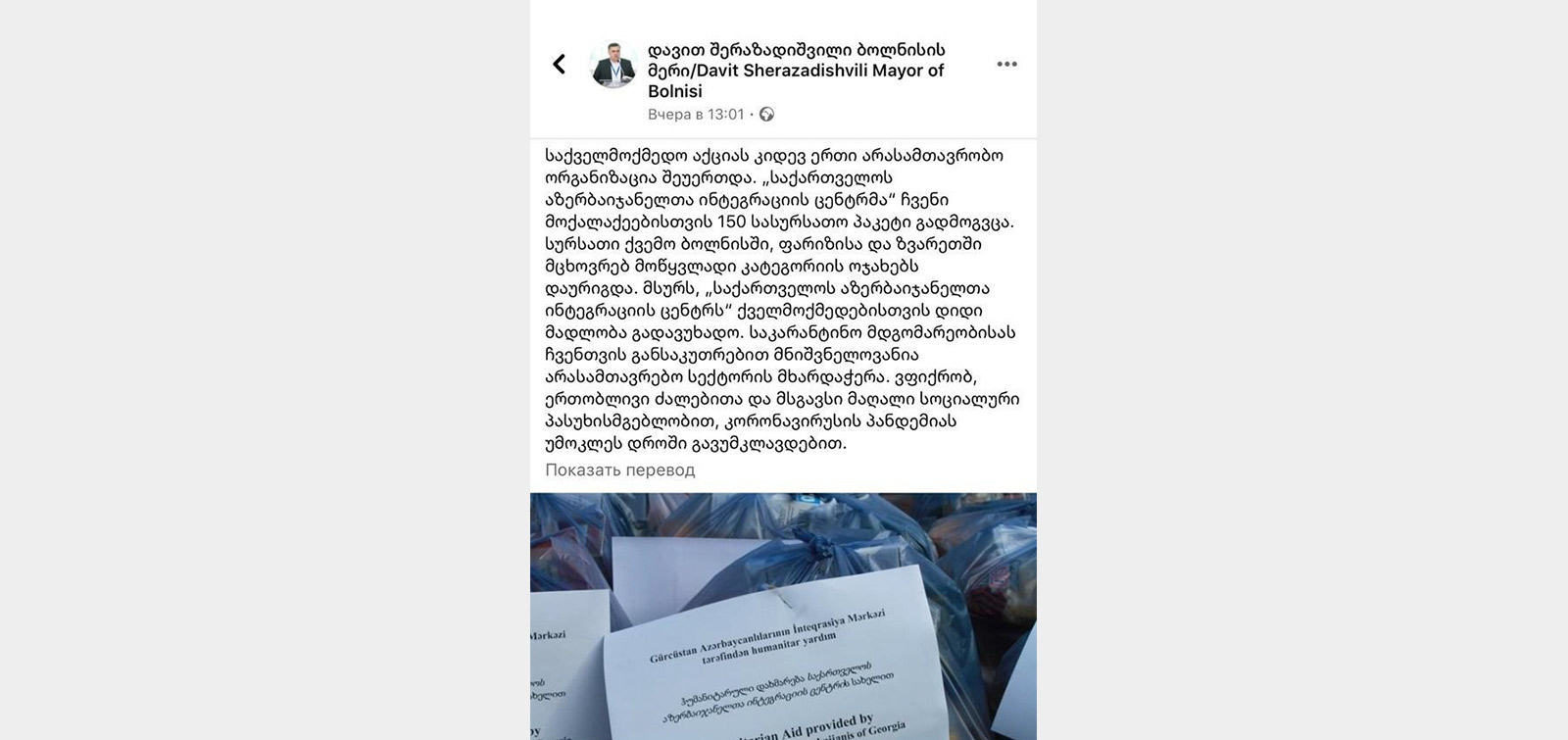 The mayor of Bolnisi thanked Integration Center of Georgian Azerbaijanis
As part of the fight against the global pandemic COVID-19, diaspora organizations around the world hold charity events to help low-income, large families and the elderly in need, which are highly appreciated by local authorities and the population.
Georgia is one of the countries where charity events are organized. The mayor of Bolnisi region, Davit Sherazadashvili, thanked Integration Center of Georgian Azerbaijanis (ICGA) for the charity event on his Facebook page.
The mayor said in a status : "Another non-governmental organization also joined the charity event. The Integration Center of Georgian Azerbaijanis presented us 150 food packages for our citizens. The food package was distributed to poor families living in Kvemo Bolnisi, Parizi and Zvareti. I thank Integration Center of Georgian Azerbaijanis for their charitable activities. The support of the non-governmental sector is especially important for us in the quarantine situation. I think that with joint efforts and high social responsibility, we will be able to overcome the coronavirus pandemic as soon as possible. "
It should be noted that, Georgia has imposed a strict quarantine regime in Marneuli and Bolnisi districts for the first time since March 23. This has complicated the social situation of low-income and disadvantaged families. Taking into account the current situation, ICGA has launched a campaign to help low-income families. ICGA provided food assistance to 250 low-income families living in Marneuli and 150 in Bolnisi. The food packages were presented to the mayor's offices of Marneuli and Bolnisi for delivery to families in need. Each aid package includes flour, rice, pasta, vermicelli, buckwheat, powdered sugar, sugar, sunflower oil, salt, tea and other necessary food products.
It should be reminded that, ICGA started operating on April 3, 2019 with the support of the State Committee on Work with Diaspora.