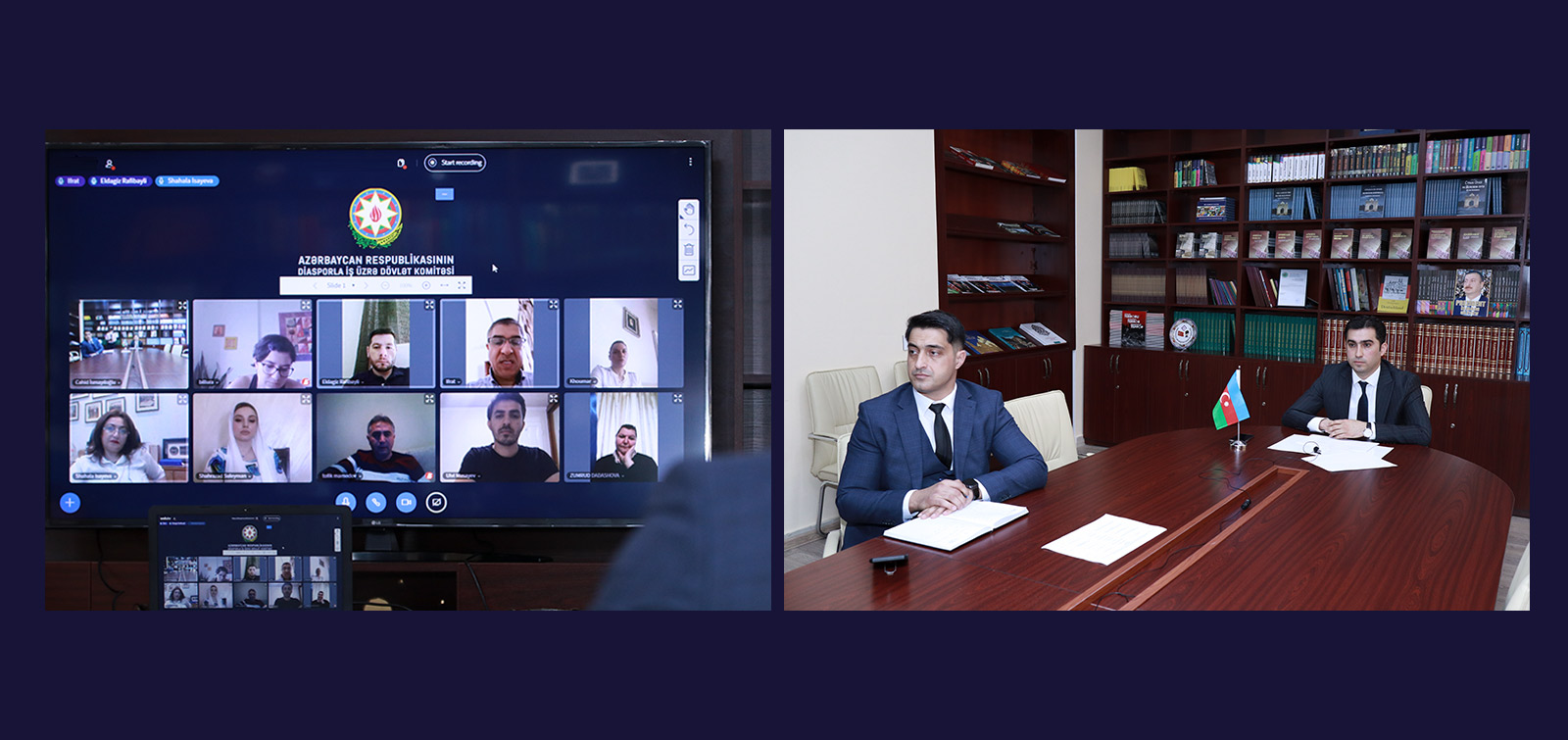 Video conference with Azerbaijani diaspora in Asia, Australia, Africa and Oceania was organized
The State Committee on Work with the Diaspora has organized a video conference with the heads of diaspora organizations in Asia, Australia, Africa and Oceania.
State Committee officials Fuad Karimov and Ismail Ansarli, as well as diaspora leaders and activists in Kingdom of Saudi Arabia, the United Arab Emirates, the People's Democratic Republic of Algeria, the Sultanate of Oman, Afghanistan, Qatar, the Commonwealth of Australia, New Zealand, the Hashemite Kingdom of Jordan, the Federal Republic of Nigeria and Japan attended conference held on April 24.
Within the framework of the virtual event, the head of the Azerbaijan-Japan Friendship Center, Professor Khalil Kalantarli, the chairman of the Azerbaijani diaspora in Qatar Eldegiz Rafibeyli, the head of the Friends of Azerbaijan Organization from Nigeria Billura Bayramova, the chairwoman of the Jordan-Azerbaijan Friendship Society Zumrud Dadashova and diaspora activists- Ifrat Bakirov, Senior Consultant and Laparoscopic Surgeon at the Ministry of Health of the Kingdom of Saudi Arabia; Shahla Isayeva, director of Universal Travels Holidays and Event Planners, and deputy chairman of the Pakistan Branch of the All Industrialists and Businessmen's Association in Pakistan; Tofig Mammadov, owner of a group of real estate companies in New Zealand; Vusala Yusif Amirbayova, a lecturer of Qaboos State University in the Sultanate of Oman, pianist, laureate of international competitions; Khumar Nabiyeva, a owner of Kokorje.art brand from Algeria PDR; Shahrizad Suleyman, a lecturer at the Department of International Relations at the University of Abu Dhabi in the UAE and orientalist-researcher; Ulvi Musayev, a first-year student at the Greenwich Management College in Australia and owner of usbros.com.au job security company had a detailed exchange of views and discussed a number of important issues.
The conference participants spoke about the problems faced by our compatriots in the countries where they live in connection with the COVID-19 pandemic and the measures taken to address them with the support of the State Committee.
The participants of the video conference appreciated the attention and care shown to them in the current situation.
Then, discussions were held on the activities and upcoming tasks in the post-pandemic period.