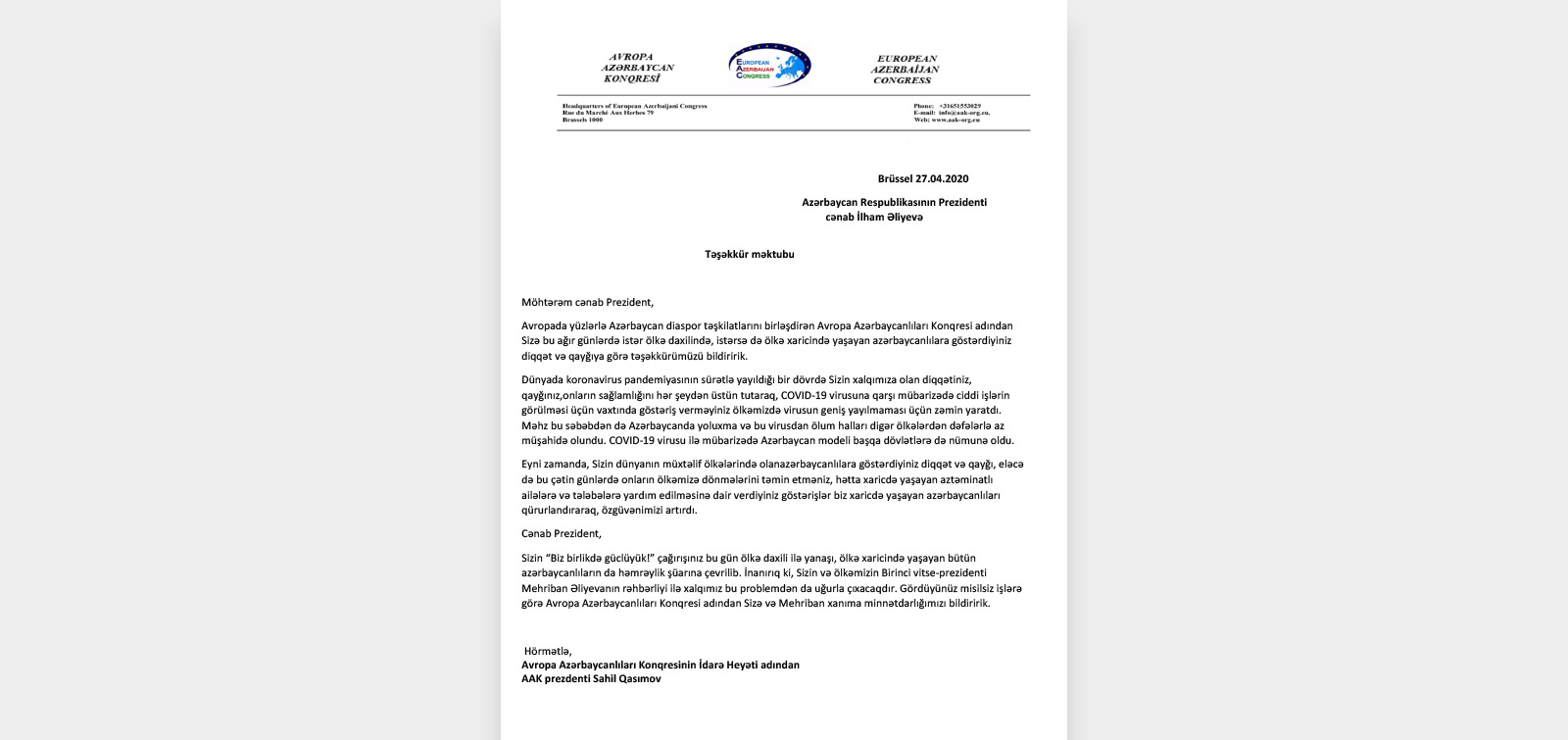 Our compatriots in Europe thank Azerbaijani President Ilham Aliyev
The unreplaceable measures and steps taken by the Azerbaijani government in the fight against the global pandemic COVID-19 are welcomed with great sympathy by our compatriots living in our country and abroad and diaspora organizations operating abroad. This point is reflected in the letter of thanks addressed to the President of the Republic of Azerbaijan Ilham Aliyev on behalf of the Board of the European Azerbaijanis Congress (EAC).
The letter on behalf of EAC President Sahil Gasimov says that as a result of President Ilham Aliyev's attention, care for our people, giving priority to their health above all else, and timely instructions to take serious action in the fight against the COVID-19, the virus has not spread widely in our country: "For this reason, infections and deaths from this virus in Azerbaijan were many times lower than in other countries. The Azerbaijani model in the fight against the COVID-19 virus has become an example for other countries".
The letter pays special attention to the care by the President of Azerbaijan to our compatriots living and studying abroad, who are facing a difficult situation as a result of the COVID-19 pandemic.
At the end, gratitude was expressed to the President of Azerbaijan and the First Vice- President of our country: "Your "We are strong together!" call today, has become a slogan of solidarity not only inside the country, but also among all Azerbaijanis living abroad. We believe that under the leadership of You and the First Vice-President of our country Mehriban Aliyeva, our people will successfully overcome this problem. On behalf of the European Azerbaijanis Congress, we thank You and Mehriban Aliyeva for your unparalleled work. "