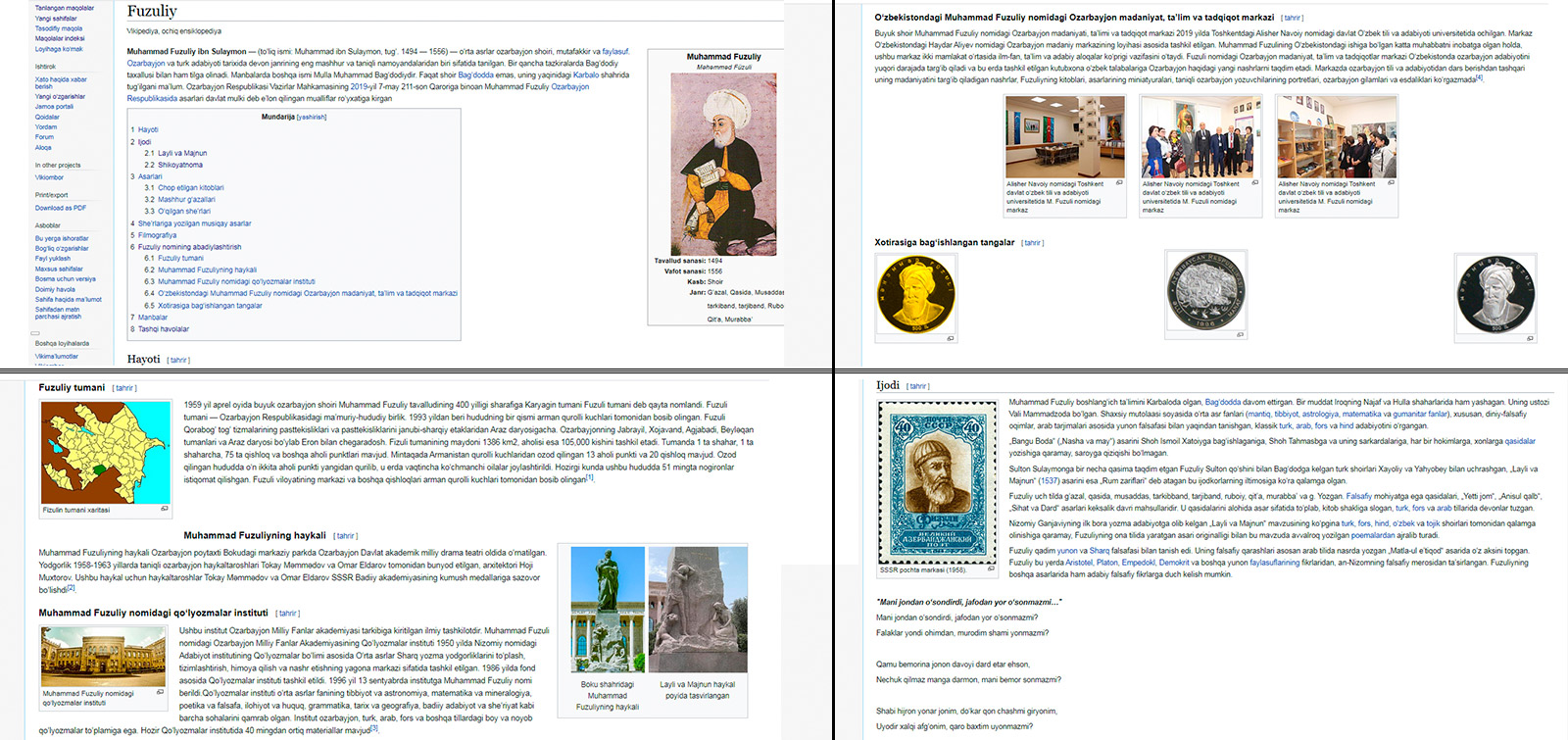 "Wikipedia" users will also be able to get information about Muhammed Fuzuli in Uzbek
An article in Uzbek about the great Azerbaijani poet Muhammed Fuzuli has been created in the International Electronic Encyclopedia Wikipedia.org. This project was implemented by the Azerbaijan Cultural Center named after Heydar Aliyev in Uzbekistan.
The article provides detailed information about the life, works of the great poet, musical compositions composed to his poems, the work done in Azerbaijan to immortalize his memory. Information and photos about the publication of the "Fuzuli Encyclopedia" in Azerbaijan on the occasion of the 300th anniversary of his birth in 1996, the establishment of the "Fuzuli" International Prize, the elevation of a magnificent statue to him in the center of Baku, the naming of the Institute of Manuscripts of the National Academy of Sciences were reflected in the article. It was also noted that part of the Fizuli region, named after the poet, was occupied by the Armenian armed forces.
In the subsection, it was noted that the Azerbaijan Culture, Education and Research Center named after M. Fuzuli was established in 2019 at the Tashkent State University of Uzbek Language and Literature named after Alisher Navoi in Uzbekistan. The purpose of the center is to study and promote the Azerbaijani language and literature.
According to the Azerbaijan Cultural Center named after Heydar Aliyev, Mohammad Fuzuli's works will be translated into Uzbek and published in Tashkent.
It should be noted that, the article on M.Fuzuli in Uzbek on Wikipedia.org is available at https://uz.wikipedia.org/wiki/Fuzuli .