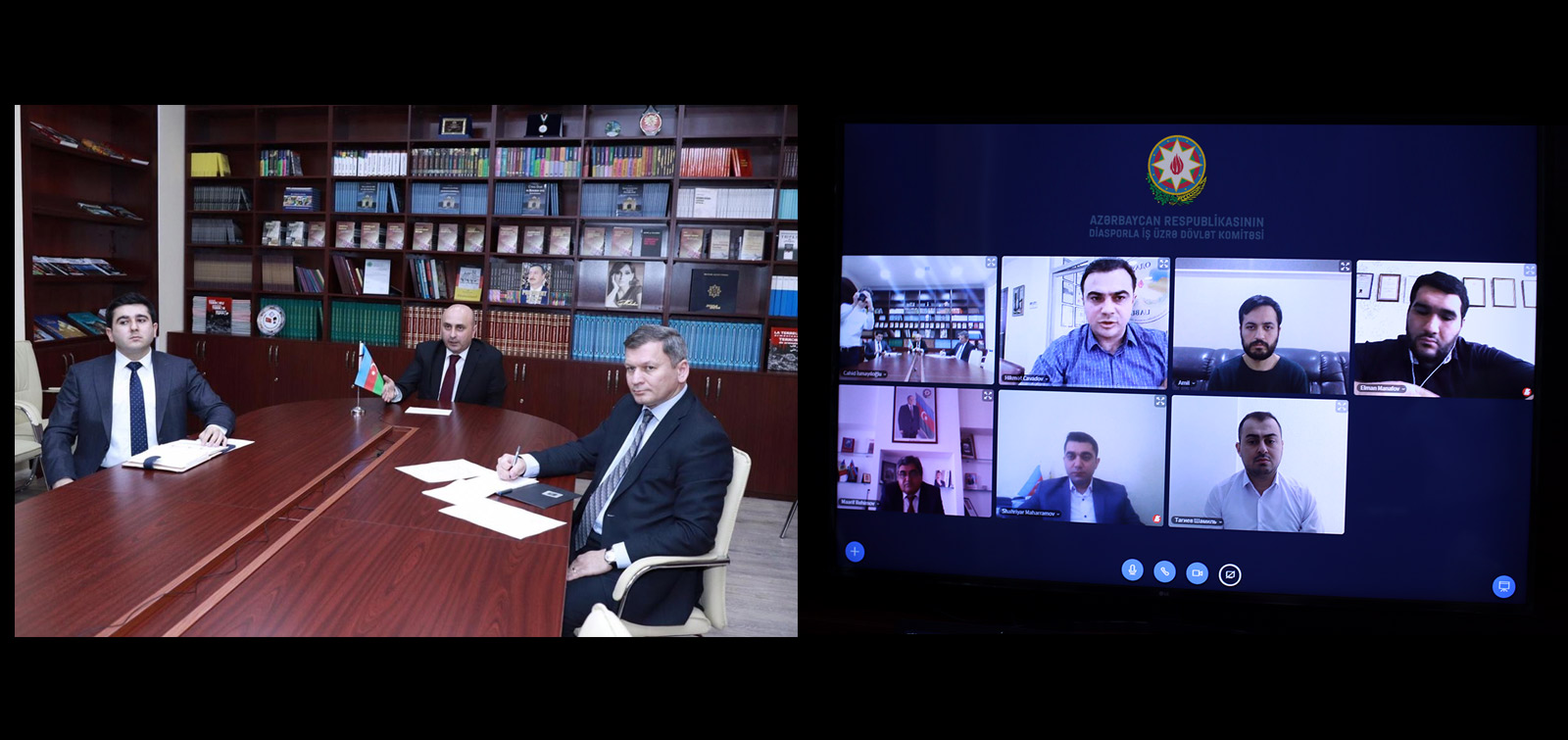 Video conferences with the Azerbaijani diaspora continue
The State Committee on Work with Diaspora continues video conferences with heads and representatives of diaspora organizations operating in different countries.The next video conference was organized with the participation of the head of the department of the State Committee Ruslan Guliyev and other responsible employees from Azerbaijan, as well as representatives of the diaspora from 3 countries - Russia, Ukraine and Moldova.
The associates of the State Committee exchanged views and discussed various issues with the Chairman of the "United Diaspora of Ukrainian Azerbaijanis" Hikmat Javadov, chairman of the regional branch of the "United Diaspora of Ukrainian Azerbaijanis" in Kharkov Malik Dursunov, chairman of the youth organization of the "United Ukrainian Azerbaijanis Congress" in Lviv Shahriyar Maharramov, chairman of the "Moscow Azerbaijanis Society" Shamil Tagiyev , member of the board of the "National-Cultural Autonomy of Moscow Azerbaijanis" organization Amil Aghayev, Head of Headquarters established on the initiative of the Embassy of the Republic of Azerbaijan to the Republic of Moldova and the "Congress of Azerbaijanis of Moldova" Maarif Rahimov, Chairman of "St. Petersburg Azerbaijani Youth Organization" Elman Manafov, Chairman of the "Ukrainian-Azerbaijani Youth Rada" Vagif Naghiyev. The conference participants also held extensive discussions to deliver the true essence of the fake Armenian genocide to the world community.
Representatives of diaspora organizations said that we demand an explanation from international organizations after the known statement of the Armenian Foreign Minister. The co-chairs of the Minsk Group of OSCE should also express their views on such a destructive position of Armenia.This is disrespectful not only to Azerbaijan, but also to the international organizations and mediator states that have been working for many years to resolve the conflict.
Then the participants of the video conference discussed the self-discipline of the Azerbaijani diaspora during the coronavirus pandemic and the post-pandemic period.It was noted that the Azerbaijani diaspora has shown special solidarity during this period and has been closely involved in solving the problems of our compatriots who are unable to return to Azerbaijan.Then the proposals for the post-pandemic period were discussed.