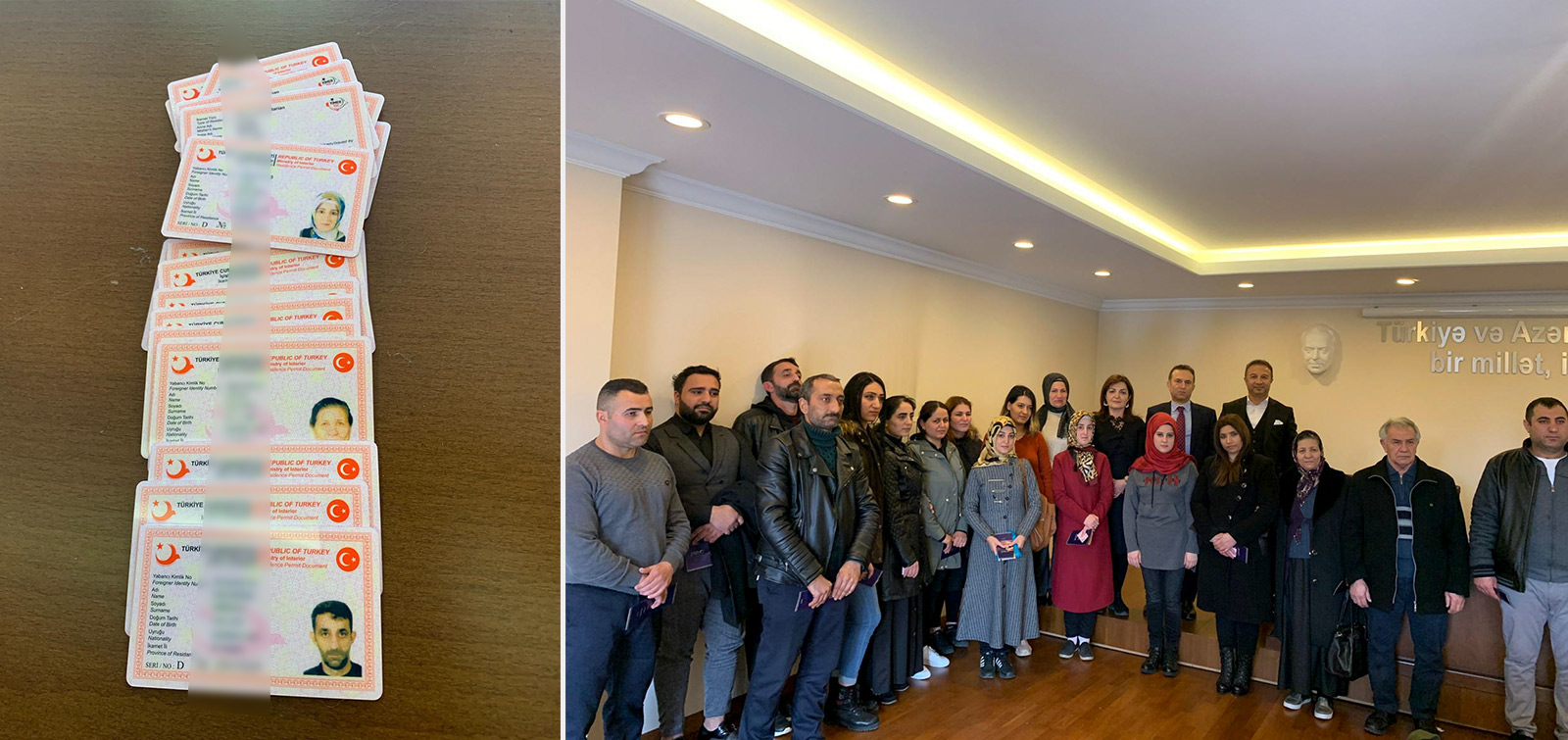 Our compatriots living in Turkey have been issued ID cards
On March 16, the presentation of ID cards confirming temporary residence permit ("humane") to 18 citizens of the Republic of Azerbaijan, who had left the country until 2000 and moved to the Republic of Turkey, compact and unofficial Azerbaijanis currently residing in Istanbul, was held in the Consulate General of Azerbaijan.
The certificates were presented by the Consul General of Azerbaijan in Istanbul Masim Hajiyev and Chairman of the Turkey-Azerbaijan Foundation for Friendship, Cooperation and Solidarity, Professor Aygun Attar.
The relevant state bodies of Azerbaijan and the brotherly Turkey have always been in the focus of attention on the legal status of Azerbaijanis who moved to the Republic of Turkey in the 1990s and now reside unofficially, the determination of their citizenship, legalization, registration and besides other issues, worked together for a while.
This issue is under the control of the President of the Republic of Azerbaijan, Mr. Ilham Aliyev and has been entrusted with the relevant government agencies (Ministry of Internal Affairs, State Migration Service, Ministry of Foreign Affairs, Ministry of Education, State Committee on Work with Diaspora and other agencies). According to the task, a working group was established with the participation of various government agencies, intensive research and discussions were held.
Issuance of the certificates was held in accordance with the agreement reached at the end of 2019 at a meeting of the State Migration Service of the Republic of Azerbaijan at the invitation of the working group during a visit to our country by a delegation led by the Deputy Minister of Internal Affairs of the Republic of Turkey, Mr. Ismail Catakli. According to the agreement, during the visit of Chairman of the State Committee on Work with Diaspora Fuad Muradov to Turkey, on September 23, 2019, the details of the procedure were clarified during a meeting with Governor of Istanbul Ali Yerlikaya.
As a result of the joint activities of the relevant agencies of the two countries, a number of people have been issued new ID cards. It should be noted that this is just the beginning of the paperwork, and the process continues to clarify new lists and prepare documents.
Our compatriots, who were provided with new ID cards, thanked the Presidents of Azerbaijan and Turkey for their humane steps. They stated that this step was very important in solving the problems that they still face in Turkey.
It should be reminded that the persons who were issued with ID cards were exempt from all administrative penalties for unofficial settlement in the Republic of Turkey.