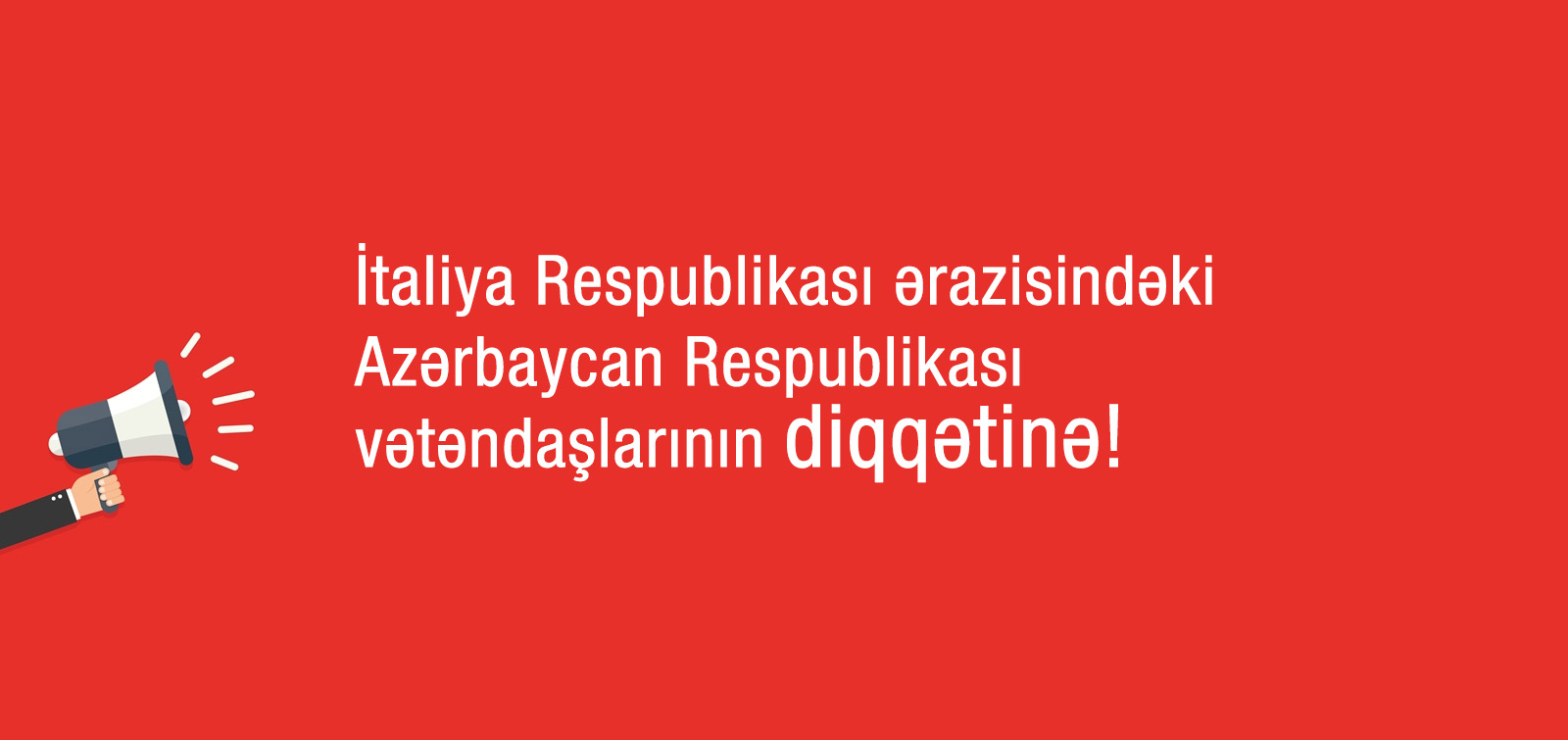 To the attention of citizens of the Republic of Azerbaijan in the Italian Republic!
Related with a sharp increase in the number of people suffering from the coronavirus outbreak in Italy, a new decision was made by the Italian government on March 9 to prevent further penetration of the virus into a wider area, and the decision was signed by Prime Minister Giuseppe Conte. According to the new decision, from March 10, 2020 to April 03, 2020, the entire Italian region is declared as a "closed zone" and the "red zone" where the virus is first spread: The following strict rules and restrictions applied to the Lombardy region and 14 other provinces are expected to be applied throughout the country:
- Prohibition of entry and exit except those related to work or health cases. Allowing only one person from each family to leave home for the purpose of purchasing essential foods, preferably staying at home for a maximum of time,
-Application of compulsory and strict quarantine regime for all persons infected with the virus,
- Closing of all educational institutions,
- Closing all museums, cinemas, theaters, gyms, recreation centers, discos, bars and game centers,
- Prohibition of all mass events, including football games,
- Strict control over only operation of grocery stores from 6:00 to 18:00 in a limited mode, and protection of 1 meter safety distance between customers,
- The limited use of churches and other religious centers, the prohibition of all public ceremonies, and so on.
Any mayor's ordinances on the coronavirus outbreak that prove inconsistent with the government measures have been declared unlawful.
URGENT! Foreign citizens and tourists who are in Italy on a temporary basis are allowed to return to their home countries. According to the latest data released by the Italian Ministry of Civil Defense (March 9, 18:00), the number of infected people in the country is 7985, and the death rate from the virus is 463 and 724 people recovered.
ATTENTION!
The embassy asks all AR citizens in Italy to follow strictly to the rules and recommendations adopted by the Italian government regarding the epidemiological situation in the country.
http://rome.mfa.gov.az/news/94/5167