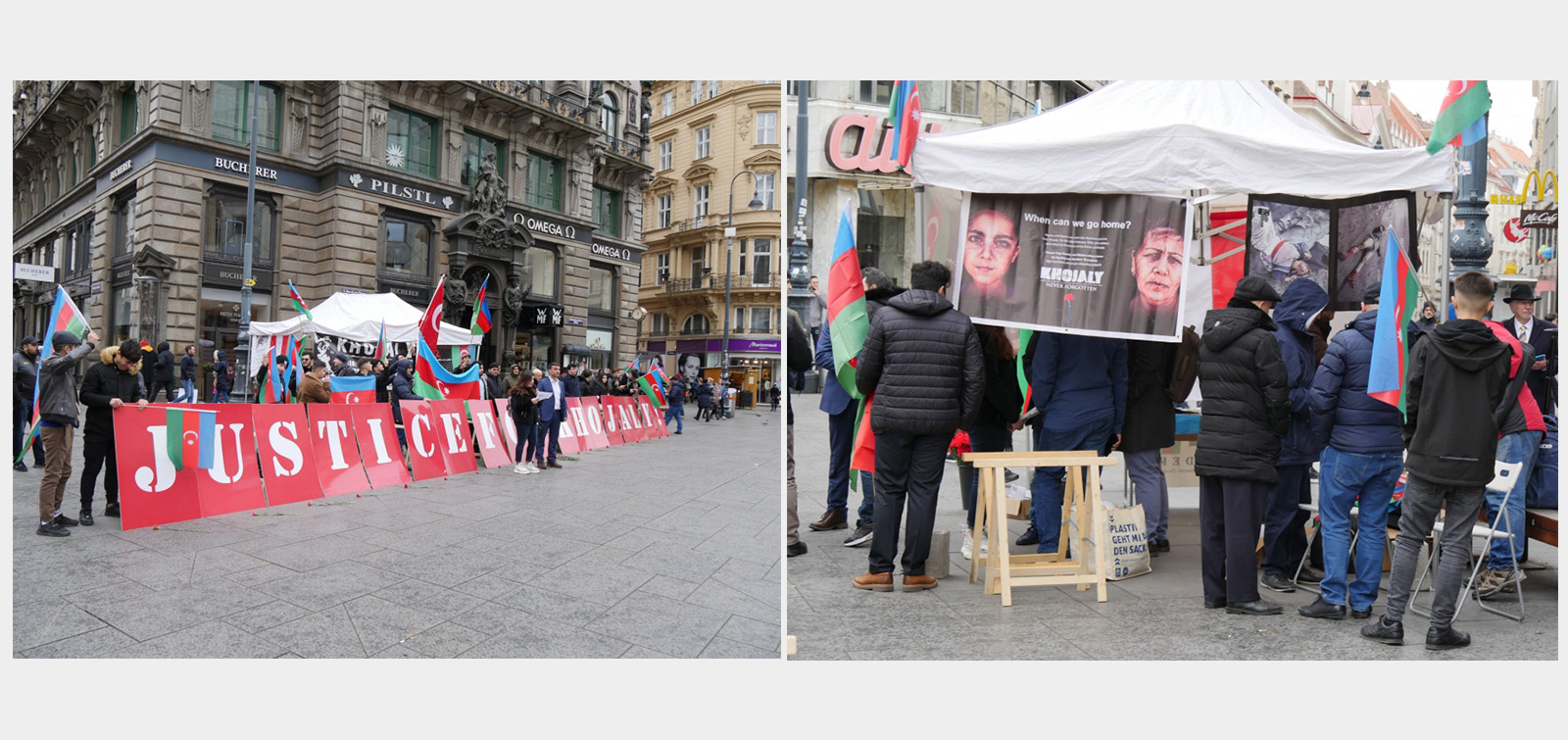 The justice was demanded to Khojaly genocide in Vienna
A rally devoted to the 28th anniversary to the Khojaly genoice was held in Vienna, Australia.
The action, which took place in Stefansplats Square in the city center, was organized by the Austria-Azerbaijan Culture and Businessmen Association ("Azer-DER"). Holding the large poster with the slogan as "Justice for Khojaly!", the participants attracted the attention of passing people. Books, brochures and other information in various languages about the Khojaly genocide and the Nagorno-Karabakh conflict are displayed here. Information materials and leaflets in German prepared by the Heydar Aliyev Foundation were presented to local residents. Vienna residents who are interested in the history of Khojaly tragedy have been given carnations as a symbol of mourning.
People interested in the rally were told about Armenia's occupation policy, more than one million Azerbaijanis who are forced to live as refugees and IDPs, the historical roots of the Nagorno-Karabakh conflict, and the effort of Azerbaijan to settle the conflict peacefully.
Speaking at the event, Head of "Azer-DER" Yardim Gunesh mentioned that the Khojaly genocide, one of the bloodiest pages in the history of the Azerbaijani people, was committed by Armenian armed forces on the night of February 25-26, 1992, and underlined the importance of political and legal evaluation of world community to this tragedy and punishment of perpetrators of genocide.
At the end, a statement was issued on the Khojaly genocide. The statement calls on the Austrian parliament to express its position on the Khojaly genocide and condemn the crimes of the mankind.