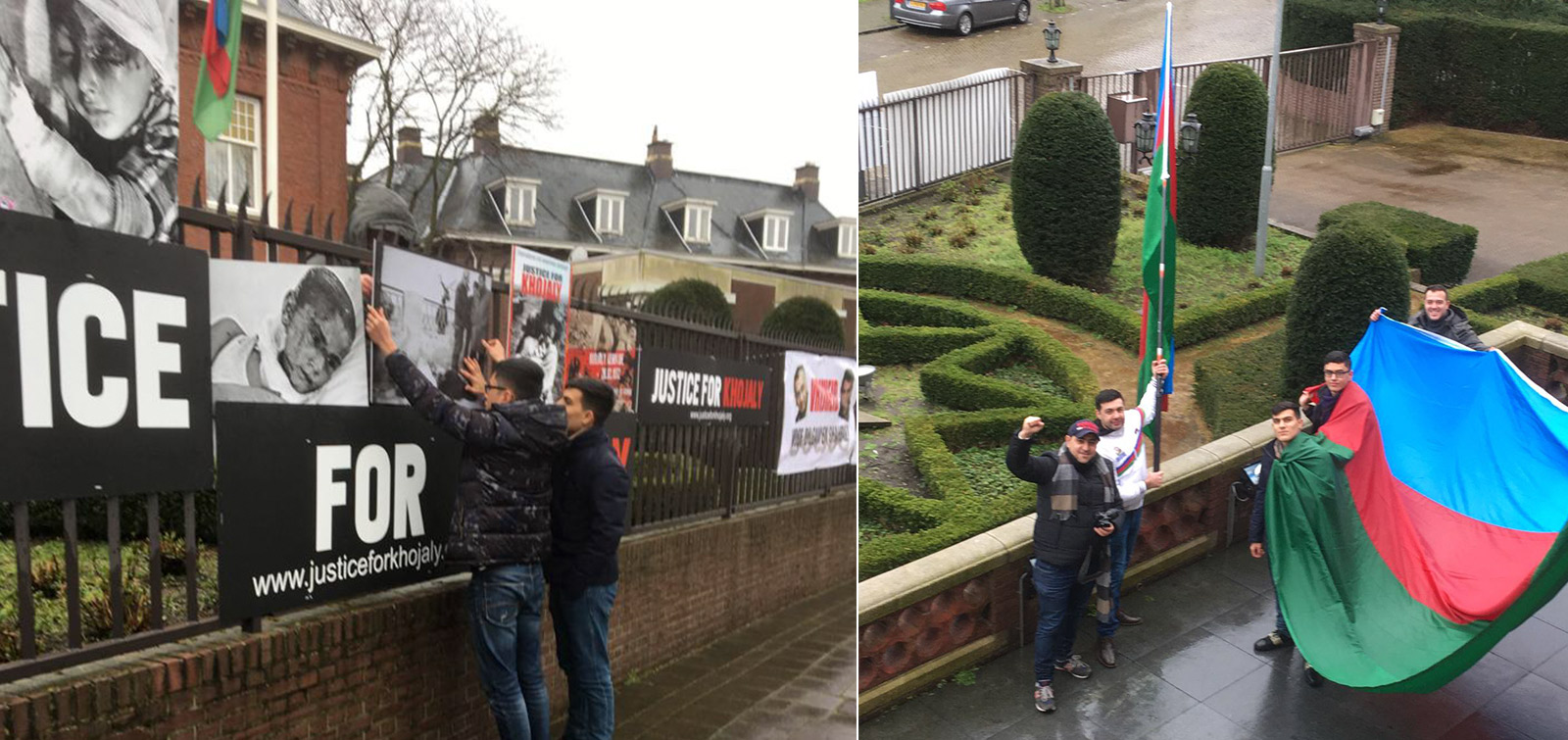 Armenians' provocative attempts were prevented in the Netherlands
The rallies and meetings by the Azerbaijani diaspora organizations and members of the diaspora on the eve of Khojaly genocide in various European countries have been deeply concerned by the Armenian separatists, and they have attempted to provoke provocations.
One of these provocations was attempted in front of the Azerbaijani embassy in the Netherlands. A group of Armenians supporting the so-called and illegal terrorist regime in Nagorno-Karabakh attempted to hold a picket in front of our embassy in the Hague, but faced a worthy response from the representatives of our diaspora in the Netherlands.
European Azerbaijanis Media Group, Members of the Coordination Council of the Belgium and Netherlands Azerbaijanis, Azerbaijani students studying in this country placed posters on the Khojaly genocide in front of our embassy and raised an Azerbaijani flag about 10 meters long. Then, they repeatedly played Armenian Prime Minister Nikol Pashinyan's voice recordings that Nagorno Karabakh belongs to Azerbaijan through the loudspeaker repeatedly. As a result of this step Armenians became frustrated and moved away from the embassy, throwing down false slogans.
The organizer of the action - Chairman of the European Azerbaijanis Media Group, Coordinator of the Coordination Council of the Belgium and the Netherlands Azerbaijanis, Emil Aliyev said that the Armenians' attempts to come to our embassy will be responded only so: "Armenians should know that there are always forces in the Netherlands to protect Azerbaijan's interests. "