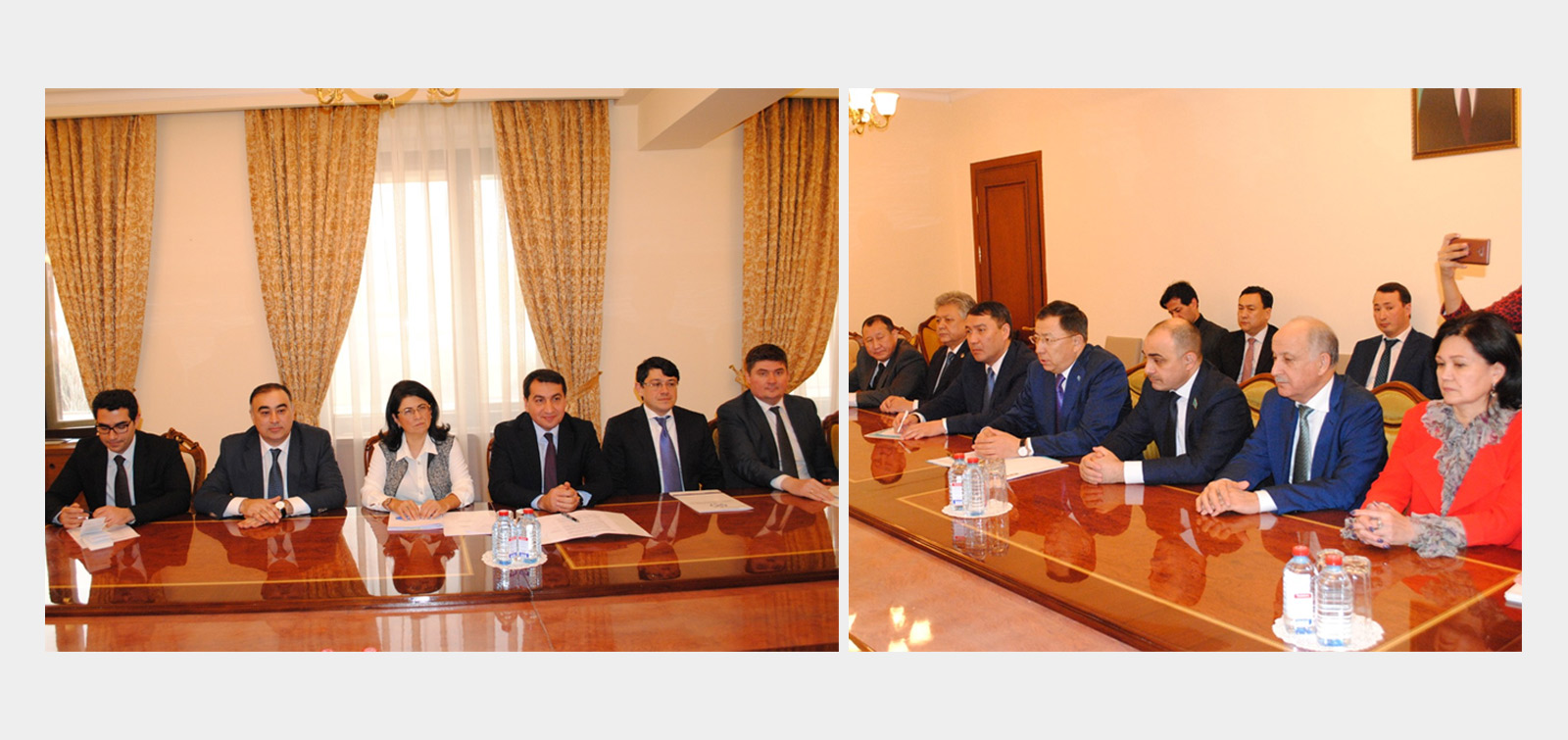 The Kazakhistan delegation met with the officials of our country
The Kazakhistan delegation, who arrived in our country at the invitation of the State Committee on Work with Diaspora, met with a number of officials.
Сhairman of the State Committee on Work with Religious Organizations of the Republic of Azerbaijan Mubariz Gurbanli, who received a delegation led by Zhanseit Tuimebayev, Deputy Chairman of the Assembly of People of Kazakhstan, Head of the Secretariat of the People's Assembly of the Presidential Administration of the Republic of Kazakhstan stressed that friendship relations between our peoples, who share the same ethnic roots and close cultures, has an ancient history and bilateral relations are at the level of strategic partnership.
It was noted that brotherly relations stemming from our common roots were strengthened during the leadership of great leaders of the two nations Heydar Aliyev and Nursultan Nazarbayev and this policy is now successfully pursued by the Presidents of Azerbaijan and Kazakhstan Ilham Aliyev and Kasym-Jomart Tokayev. Gratitude was expressed to Kazakhstan for its constant support of our country at the international and regional level in the issue of the Armenian-Azerbaijani Nagorno-Karabakh conflict.
The head of the delegation Zhanseit Tuimebayev, noted that religious tolerance and multiculturalism in Azerbaijan are a positive model for other countries and Kazakhstan has created a broad legal and public base for the development of cultural and confessional diversity, and that no ethnic-religious conflict has occurred. The sides exchanged views on other issues of mutual interest.
Assistant to the President - Head of the Department of Foreign Policy Affairs of the Presidential Administration of the Republic of Azerbaijan Hikmat Hajiyev, Head of the Department of Humanitarian Policy, Diaspora, Multiculturalism and Religious Affairs Farah Aliyeva attended the meeting held at the Presidential Administration of Azerbaijan.
Hikmat Hajiyev, Assistant to the President said that the personal friendship between the First President of Kazakhstan Nursultan Nazarbayev and the national leader of Azerbaijan Heydar Aliyev played a great role in the development of relations between our peoples and he emphasized the contribution of President Ilham Aliyev to the strengthening of our bilateral relations. It was underlined that the two countries have successfully cooperated in many areas, have always supported each other in the international arena, have implemented many important joint events and initiatives in the region.
Other issues of mutual interest were also discussed at the meeting.