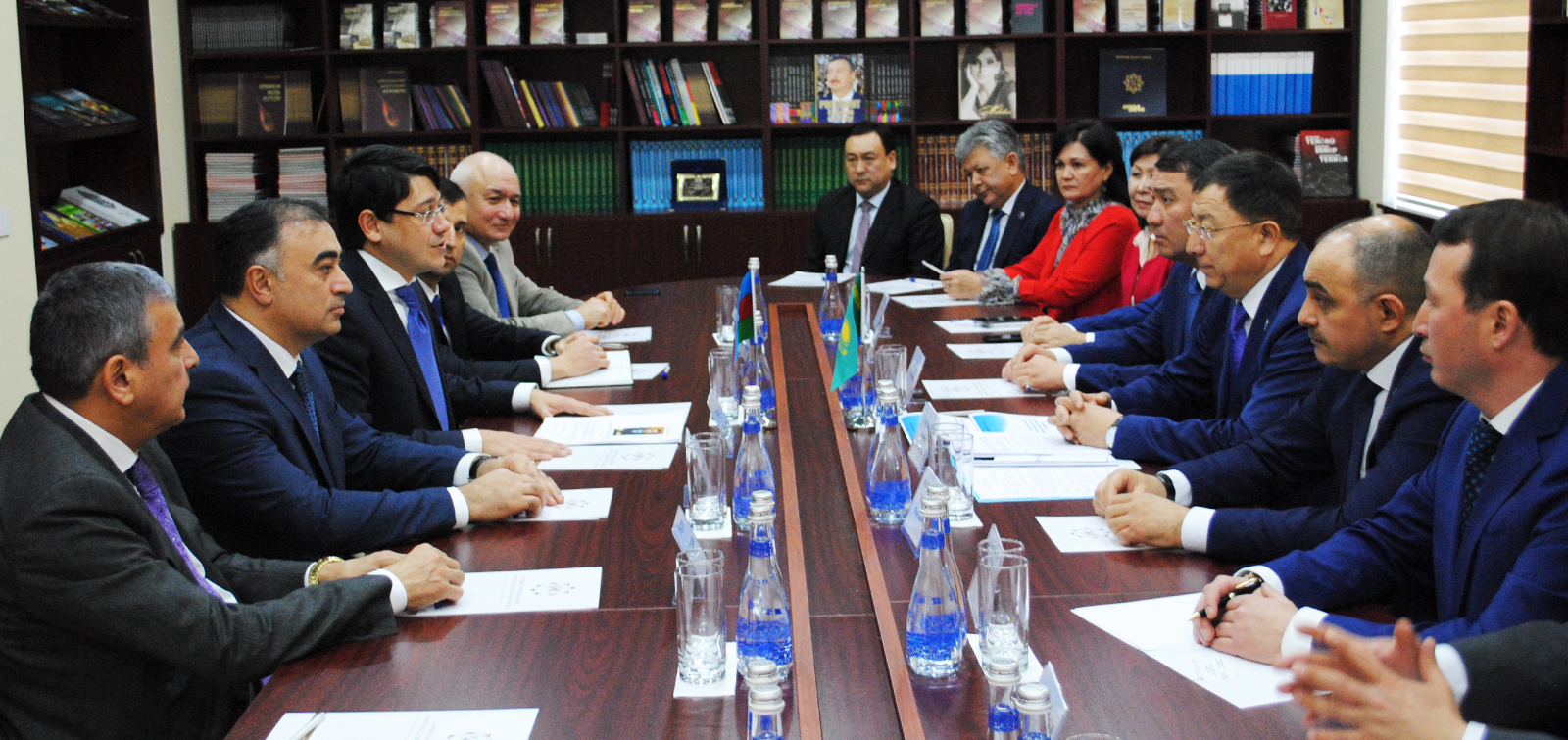 The Kazakhstan delegation visited the State Committee
Delegation headed by the Deputy Chairman of the Assembly of People of Kazakhstan, Head of the Secretariat of the People's Assembly of the Presidential Administration of the Republic of Kazakhstan Zhanseit Tuimebayev has arrived to our country at the invitation of the State Committee on Work with Diaspora of the Republic of Azerbaijan. The purpose of the visit is to learn the experience of working with the diaspora, interethnic relations between the relevant state bodies of Azerbaijan and Kazakhstan, including the State Committee and the Assembly, further strengthening of business cooperation and business contacts.
The delegation first laid a wreath at the tomb of the national leader at the Alley of Honors paying deep respect for the memory of national leader Heydar Aliyev. The guests also visited the grave of prominent ophthalmologist, academician Zarifa Aliyeva. Then, the delegation arrived at the Alley of Martyrs and laid flowers at the graves of our compatriots, who died for the independence and territorial integrity of our country.
Later the meeting with the delegation was held at the State Committee on Work with Diaspora. Welcoming the guests, Chairman of the State Committee Fuad Muradov emphasized the exceptional services of the leaders of Azerbaijan and Kazakhstan in the development of bilateral relations, which have a rich history, formed between our peoples and importance of mutual visits of delegations led by the heads of the countries. The Chairman of the Committee also spoke about the importance of bilateral relations within the Cooperation Council of Turkic Speaking States (CCTS).
The Chairman of the Committee informed the delegation about the successful diaspora policy of Azerbaijan, the large-scale projects and programs implemented in recent years, as well as the targets of the Committee's "Road Map" and emphasized the importance of involvement of Azerbaijanis living in Kazakhstan in new projects.
The head of the Kazakhstan delegation Zhanseit Tuimebayev highly appreciated the work done and spoke about the friendship and brotherhood relations between our peoples. Z. Tuimebayev informed about the activities of the Assembly of People of Kazakhstan, the conditions created for the communities of different nations and stressed the importance of strengthening intercommunity relations.
The head of the Kazakhstan delegation thanked the Chairman of the Committee for organizing such visit and warm reception.
The meeting was also attended by the Ambassador of Kazakhstan to Azerbaijan Serjan Abdikarimov and Azerbaijani Ambassador to Kazakhstan Rashad Mammadov.