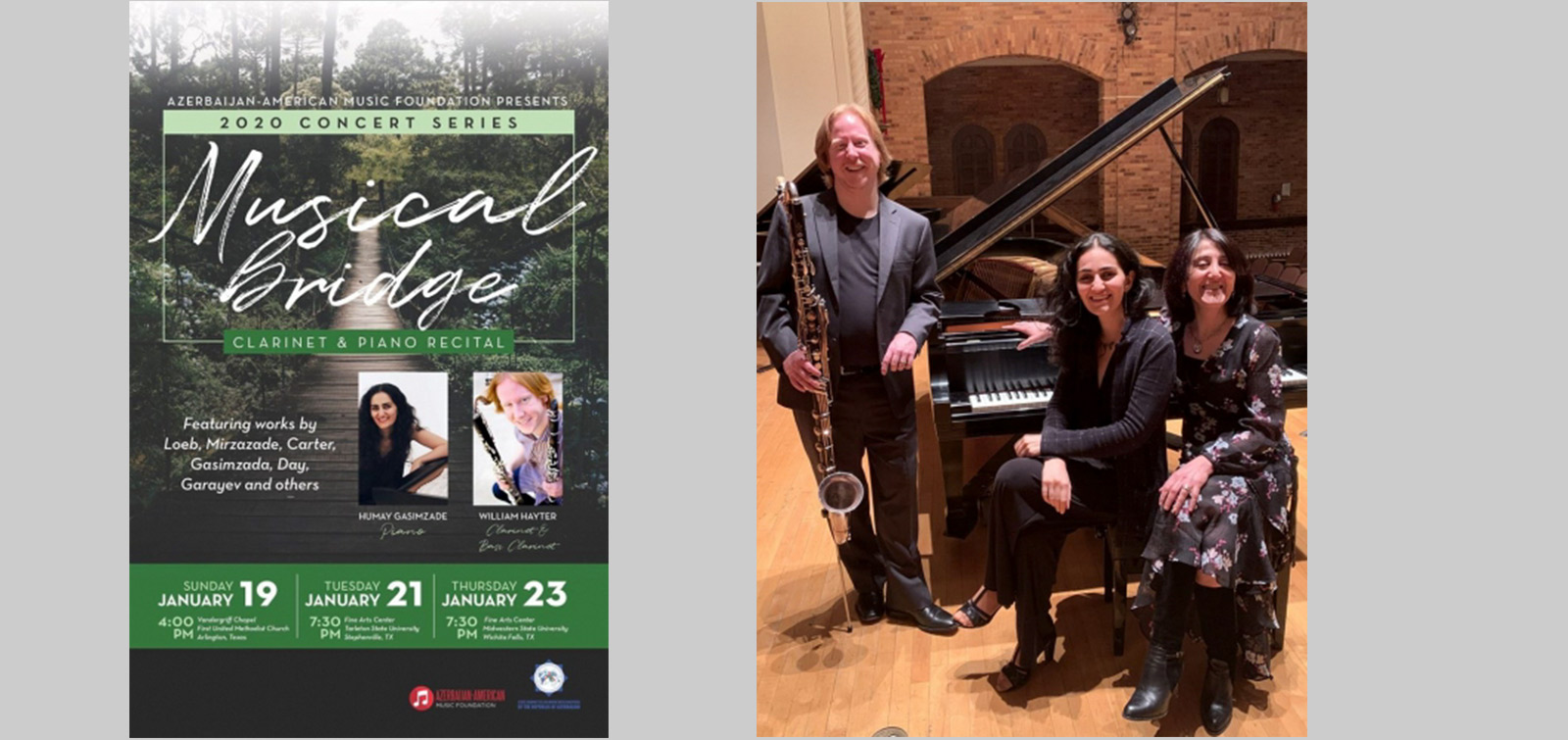 Concerts titled "The Bridge of Music" were organized in Texas
"Brdige of Music" concerts were held at the First United Methodist Church in Wichita Falls, Arlington, Stephenville cities of Texas, Tarleton State University and Middle West State University. The events, which took place from January 19 to 23, were supported by the State Committee on Work with Diaspora and organized by the Azerbaijan-American Music Foundation (AAMF).
The concert program includes classical and avant-garde American composers Elliot Carter's "Catenaires", George Cramb's "Macrocosmos", David Loeb's "Sonata Lirica", Kevin Dein's "Gymnopedie", "Waltz" and piano play by Khayyam Mirzazade from the famous Azerbaijani composer Gara Garayev's "Path of Thunder" ballet, and "Seen when night is silent", written by the young composer Turker Gasimzade for the occasion, for the clarinet and piano. He dedicated the work to a duet of Azerbaijani pianist Humay Gasimzade and well-known American clarinet singer William Heiter.
It should be noted that, pianist Humay Gasimzade represented Azerbaijan at the concert attended by famous musicians. She is a graduate of Manhattan Music School in New York and is currently pursuing a PhD in Modern Piano at "Bowling Green" State University in Ohio. William Heiter is Associate Professor of Music department of Midwestern University in Wichita Falls.
The AAMF is known for its building intercultural relationship with North America and Azerbaijan, as well as forming and developing music bridges. Jamila Javadova-Spitzberg, the founder and executive director of the Foundation, said the main mission of the organization is to promote classic music of the two countries in the US and Azerbaijan.