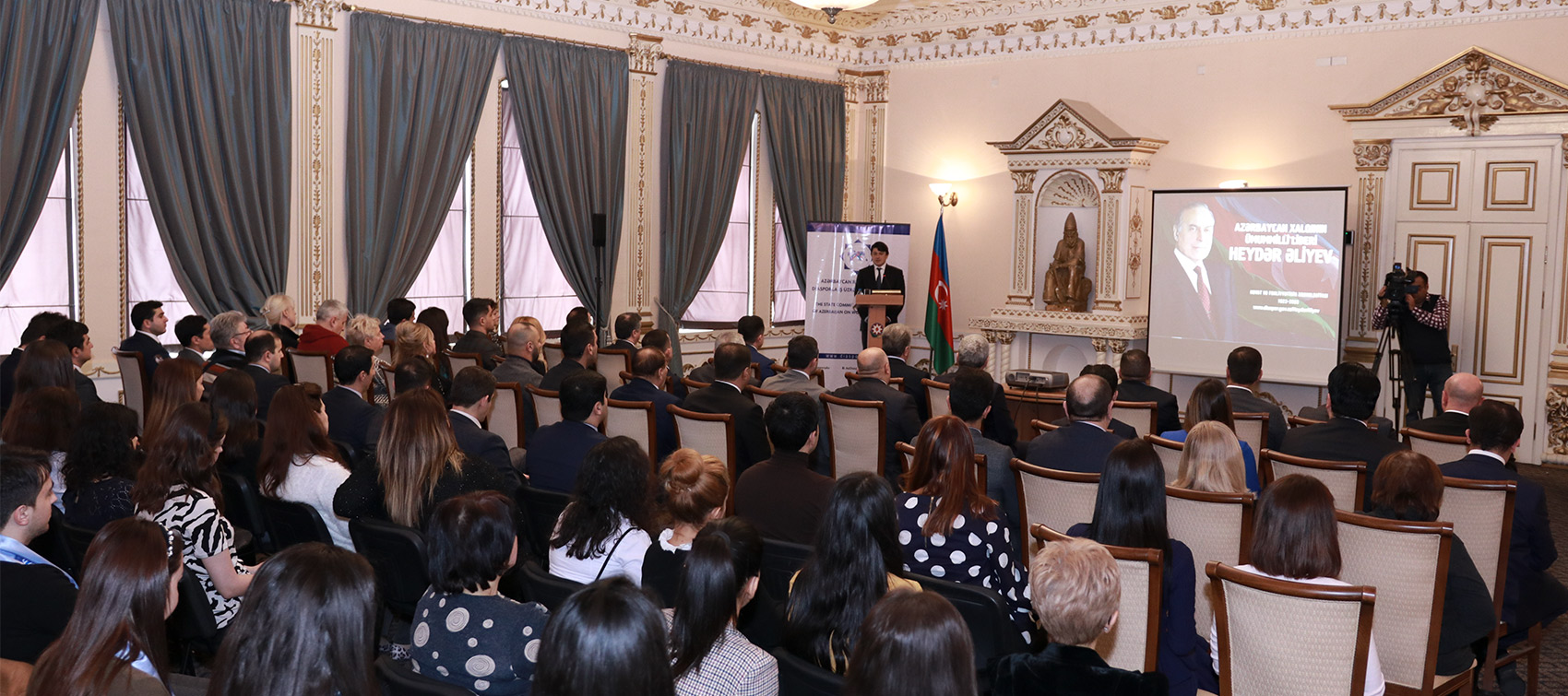 The State Committee on Work with Diaspora hosted a memorial day to the great statesman Heydar Aliyev
The State Committee on Work with Diaspora hosted an event dedicated to the memory of national leader Heydar Aliyev.
Before the event, the staff of the Committee visited the graves of the National Leader Heydar Aliyev and the outstanding ophthalmologist, academician Zarifa Aliyeva and honored their memories.
Then flowers were laid at the Heydar Aliyev' bust at the State Committee on Work with Diaspora.
At the memorial ceremony, the Great Leader was commemorated with a moment of silence. Speaking at the event, Chairman of the Committee Fuad Muradov spoke about the life and activity of the great leader, his irreplaceable contribution to the establishment and strengthening of the independent Azerbaijan Republic, as well as the formation of the Azerbaijani diaspora. He said that for more than 30 years under the leadership of the prominent statesman Heydar Aliyev, the economic progress of our country has reached a high level, Azerbaijan has gained international reputation and was internationally recognized on the scale of the former union.
One of the great national holidays in Azerbaijan - "31 December - Solidarity Day of World Azerbaijanis " is the logical consequence of the great political course of the genius. The chairman of the committee noted that the political course of Heydar Aliyev is now successfully continued. He said that at the instruction of the President of the Republic of Azerbaijan Ilham Aliyev, with the support of the Heydar Aliyev Foundation and at the initiative of the First Vice-President of Azerbaijan, Mrs. Mehriban Aliyeva, regular measures are being taken to preserve our national cultural heritage, for networking of the Azerbaijanis living abroad, and to bring the truth to the international community.
Members of Parliament Fazail Ibrahimli, Ali Huseyinli and diaspora volunteer Nazrin Gasimova delivered speech at the ceremony. It was noted that the ideology of Azerbaijanism, which provides connection with historical homeland of our compatriots living abroad, is also an irreplaceable service of the great leader.
The speakers said that Heydar Aliyev always paid attention to the importance of the formation and organization of the Azerbaijani diaspora, the main directions and prospects of lobby activity.
The speakers noted that the idea of Heydar Aliyev to unite the world Azerbaijanis continues successfully today.
At the end a film was shown about the life and activity of the national leader.