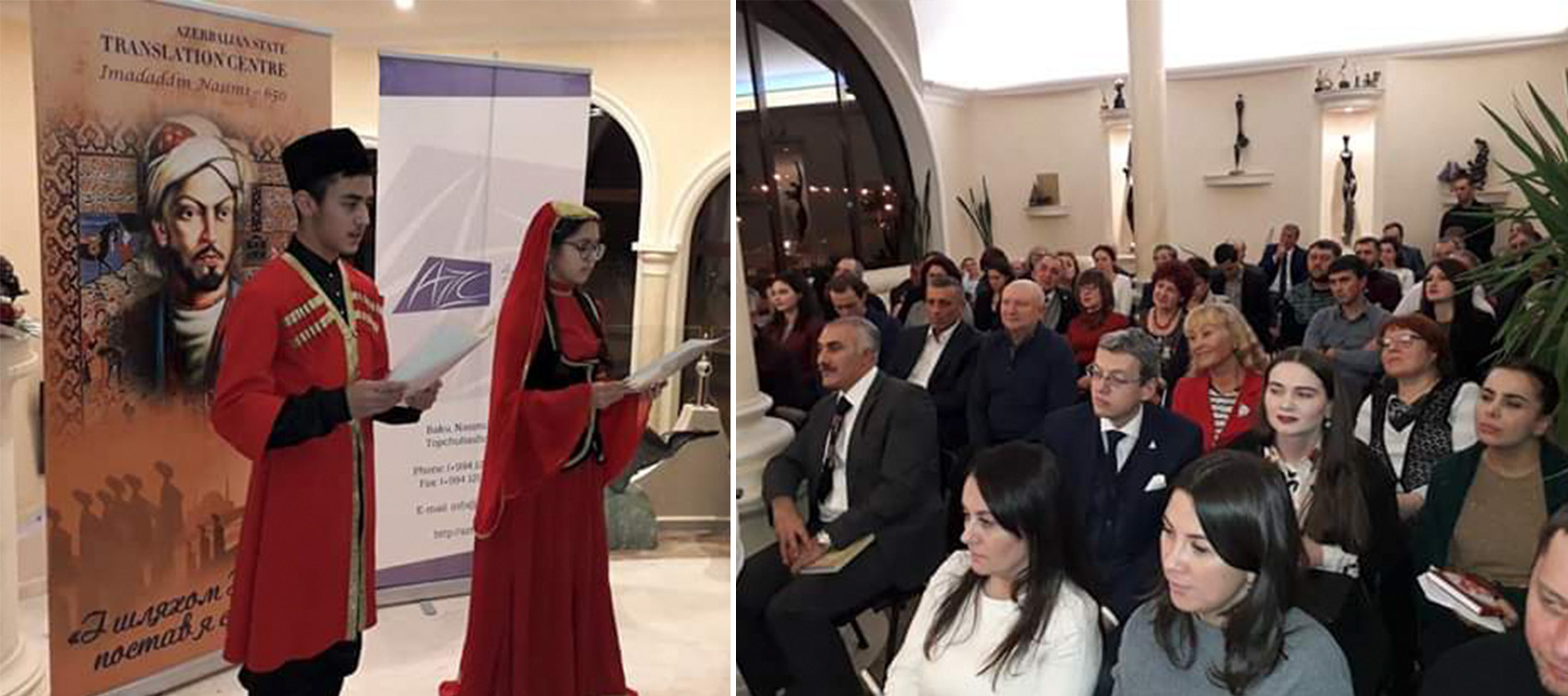 An evening dedicated to Nasimi took place in Kharkov
A solemn event, dedicated to the 650th anniversary of the great Azerbaijani poet and thinker Imadaddin Nasimi was held in the Ukrainian city of Kharkov.
The ceremony, organized by "Dostlug" Kharkov Regional Society Of The Azerbaijani-Ukrainian Friendship together with the State Translation Center of Azerbaijan, took place in the Azerbaijan Cultural and Information Center of the city.
Chairman of the "Dostlug" society, doctor of technical sciences, professor Murad Omarov, deputy chairman of the Kharkov city administration Svetlana Gorbunova-Ruban, people's artist of Ukraine, honored artist of Azerbaijan, honorary citizen of Kharkov Seyfaddin Gurbanov, associate professor of the Kharkov National Pedagogical University named after G. Skovoroda Antonina Yakovleva delivered speeches at the event. Congratulating the participants of the event on this significant event, they talked about the importance of Nasimi's work for the present Azerbaijani and Ukrainian literary relations.
At the evening, a presentation of the book of works by Nasimi, first time translated into Ukrainian, took place. The book presented thanks to the State Translation Center of Azerbaijan. Specialist of the Center for translation of art works Pusta Akhundova, translator Dmitry Chistyak, executive secretary of the project Marina Goncharuk spoke in detail about the work done, presented works by Nasimi in Azerbaijani and Ukrainian.
Then, the honored artist of Ukraine Nina Suprunenko, a member of the National Unions of Writers and Journalists of Ukraine Lyutsina Khvorost, a member of the All-Union public organization "Memorial", the poet Viktor Zubov read Nasimi's works in Ukrainian and Russian.
Kharkov's creative intelligents, high school students, graduates of the Azerbaijan Cultural and Education Center "Dostlug", members of the dance collective "Pearls of Azerbaijan" also made speech at the event.