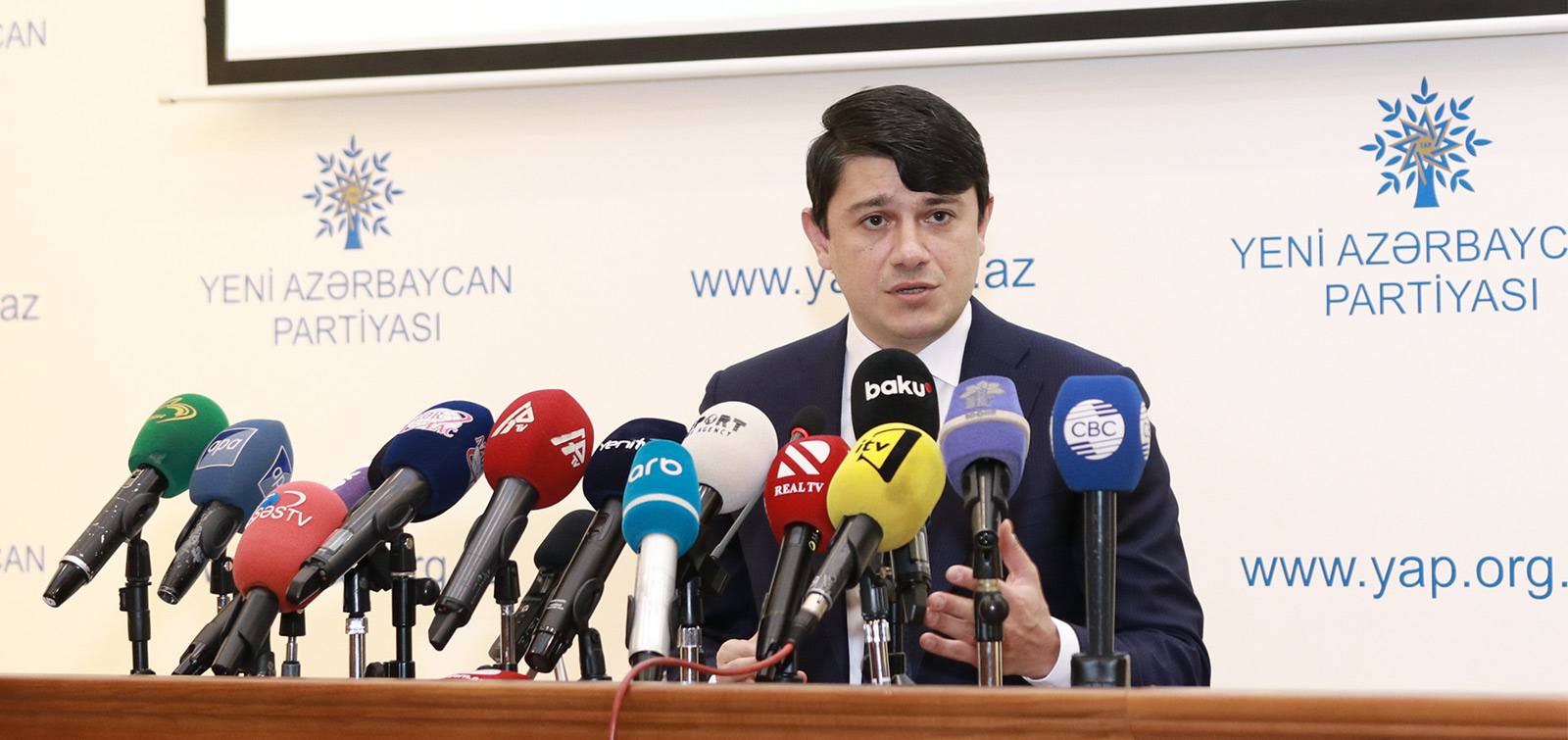 Chairman of the State Committee on Work with Diaspora held a press conference
Chairman of the State Committee on Work with Diaspora of the Republic of Azerbaijan held a press conference at the Executive Secretariat of the New Azerbaijan Party (YAP). Before the conference, the Chairman of the Committee laid flowers in front of the bust of the national leader Heydar Aliyev and honored his memory. Chairman of the Committee Fuad Muradov analyzed the activity of the organization led by him in 2018-2019 and answered the questions of journalists.
He noted: "The State Committee on Work with Diaspora is a central executive body that implements state policy regarding our compatriots living abroad. We work to unite Azerbaijanis in the world more closely around our national and state interests. Our goal is that, regardless of the country in which they live, let see the support of independent, powerful Azerbaijan state to them. According to the statement, "I will be the president of every Azerbaijani," let feel the care and attention of head of the state, our respected President Mr. Ilham Aliyev. There are tasks set by the State Committee's regulations. We consistently work in accordance with these tasks and the instructions of our President. The support of our President Ilham Aliyev and the President of the Heydar Aliyev Foundation, the First Vice-President of the Republic of Azerbaijan Mrs. Mehriban Aliyeva should be specially mentioned in this way. "
The Chairman of the Committee informed on the work done and noted that the "Strategic Road Map" of the State Committee on Work with Diaspora has been prepared, the Fund for Support to Azerbaijani Diaspora was established, in total, 11 Coordination Councils covering 27 countries have been founded, two Summer Camps of Diaspora Youth have been organized, internet television of the Committee Diaspor TV and internet radio Diaspor FM were created. As part of the Committee's joint project with Public Television, the program is broadcasted twice a month under the name "The motherland is not far away."
Fuad Muradov gave detailed information about the "Karabakh" weekend schools and Azerbaijani houses opened abroad, as well as cooperation with various agencies, joint projects, improving the diaspora's database, "Azerbaijani Diaspora Volunteers" program, the work done on networking of our compatriots and other issues.
Then the chairman of the Committee answered numerous questions.