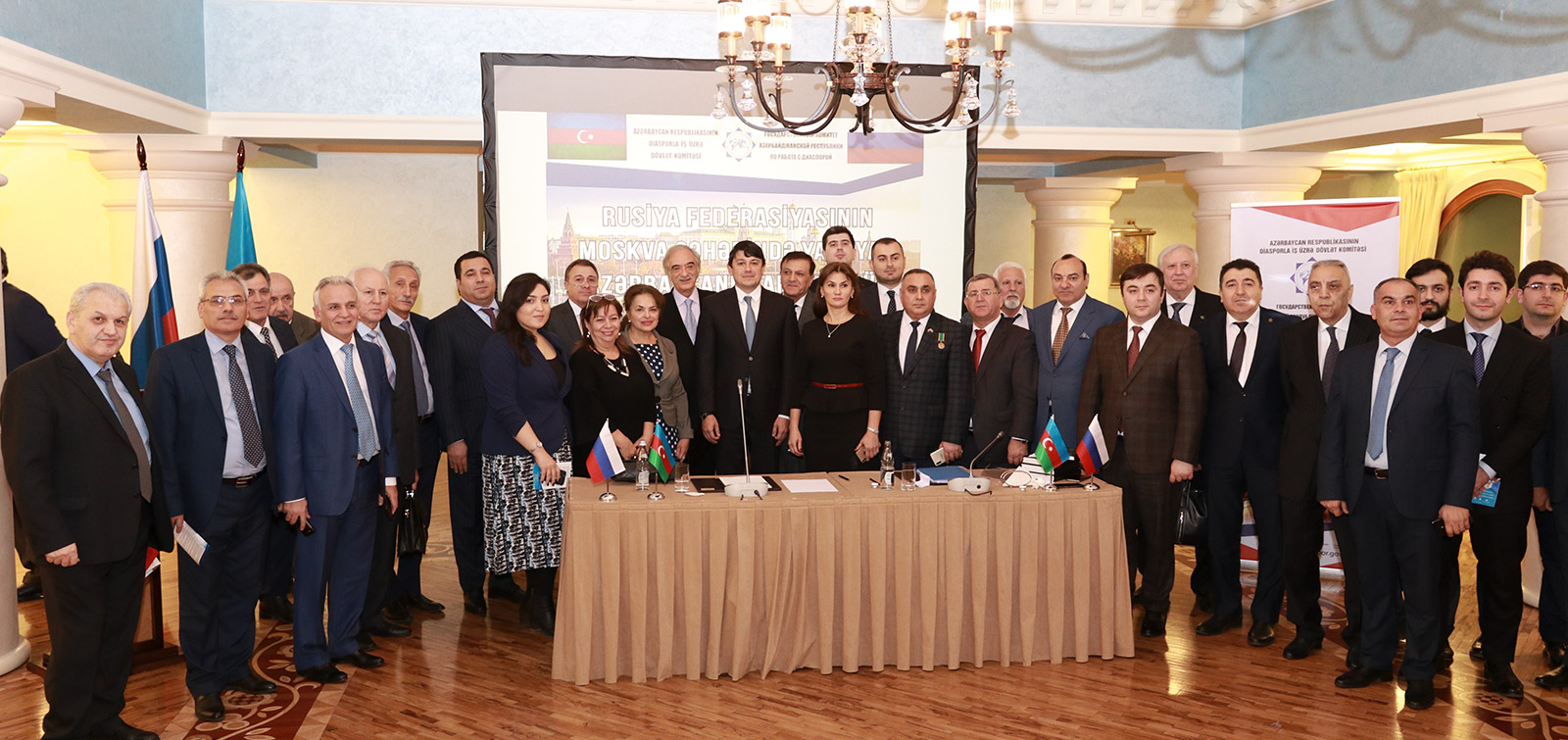 A meeting was held with the Azerbaijanis living in Moscow
Delegation of the State Committee on Work with Diaspora met with the Azerbaijanis living in Moscow on November 27.
Ambassador Extraordinary and Plenipotentiary of Azerbaijan to Russia Polad Bulbuloglu spoke at the event with detailed information on the official visit of First Vice President of Azerbaijan Mehriban Aliyeva to Russia. The diplomat stressed that good results are expected from this visit.
Appreciating the first official visit of the Chairman of the State Committee to this country and the work with the Azerbaijanis of Russia, the ambassador spoke about the difficulties of our compatriots and shared his views on the resolutions of the problems, the activities of the diaspora organizations and the relations between them.
Fuad Muradov thanked the ambassador for the detailed speech and gave information about the meetings held during his visit to Russia. Speaking about the history of the State Committee, he spoke about the role of Heydar Aliyev in the creation of this organization, the care of President Ilham Aliyev to the diaspora, and noted that the diaspora policy of the President has already shown real results. He reminded that First Vice -President of Azerbaijan Mehriban Aliyeva paid an official visit to Russia last week. Muradov underlined that reception of the highest guest of Azerbaijan by President Vladimir Putin, Prime Minister Dmitry Medvedev and Chairwoman of the Federation Council Valentina Matviyenko, her participation in the opening ceremony of the renovated "Azerbaijan" pavilion at the Achievements of National Economy Exhibition in Moscow and other events have caused great pride in our people and in our compatriots living in Russia.
Speaking about the relations between the two countries and the directions of their development, the Chairman of the Committee shared his thoughts on the strength of our Azerbaijan diaspora in Russia.
Then a video showing the activities of the Diaspora Committee was demonstrated.
Medals were presented to Rauf Atamalibayov, Ramiz Abutalibov and Adil Hajinsky, who were awarded the 100th jubilee medal of the Azerbaijan Democratic Republic by the relevant decree of President Ilham Aliyev.
The event was followed by discussions.