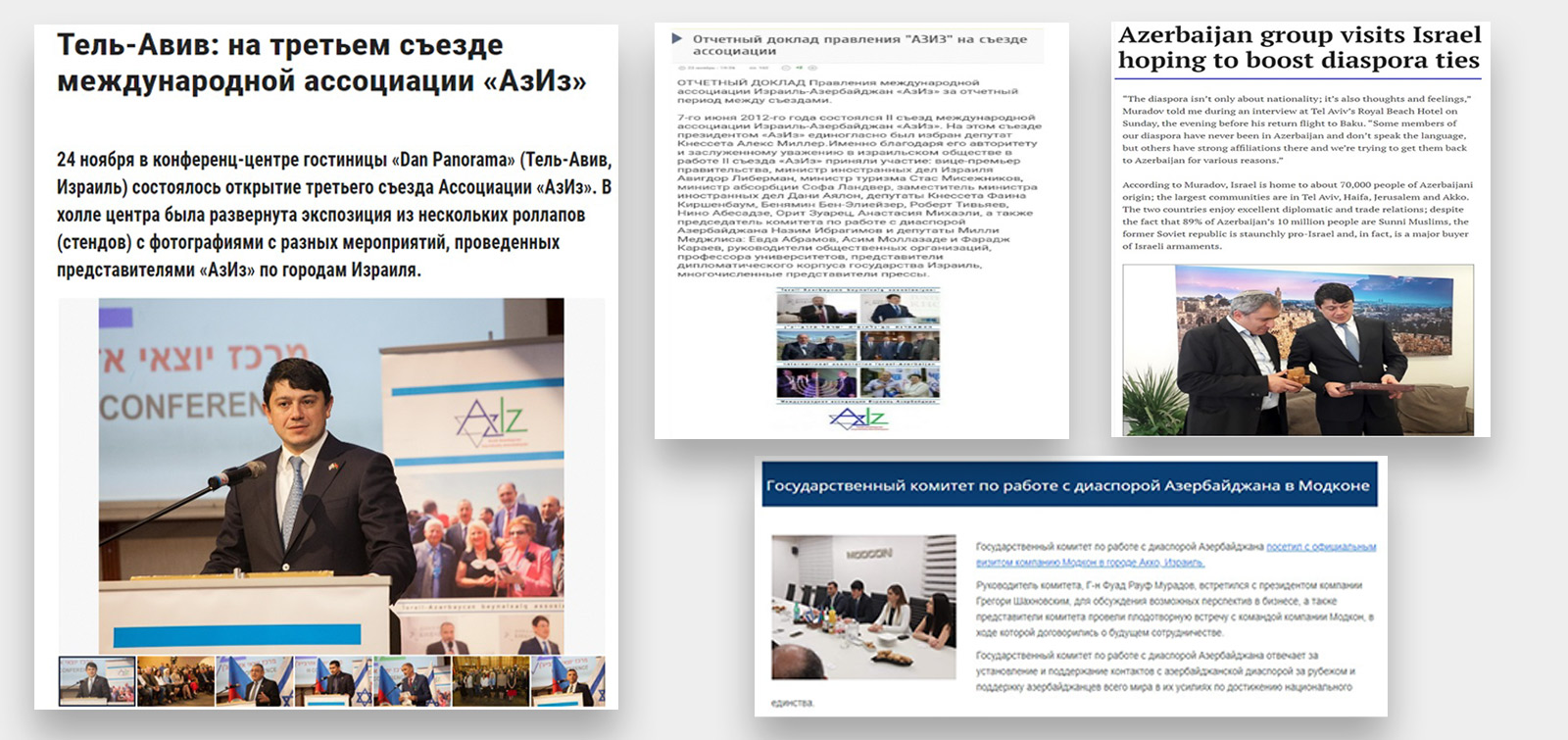 The visit of the delegation was also covered by Israeli media
The delegation headed by Chairman of the State Committee on Work with Diaspora Fuad Muradov who visited Israel on November 23-25 met with Israeli Minister of Environmental Protection Zeev Elkin and Director of the "Eurasia-2" department of the Ministry of Foreign Affairs Isakh Carmel Kagan, Knesset MP Mark Ifraimov. As well as, members of the Committee, who met with the Azerbaijani community living in Akko and surrounding cities, also visited "Modcon" company there.
The SCWD representatives participated in the 3rd Congress of the "AzIz" Azerbaijan-Israel International Association in Tel Aviv. Then, the delegation met and held discussions with members of the "Shah-Dagh" Israel-Azerbaijan Society.
Chairman of the State Committee Fuad Muradov gave an interview to the influential newspaper "The Times of Israel" during his visit to Israel. The article written by Larry Luxner based on an interview, writes about Azerbaijan diaspora, the Jewish community that had moved from Azerbaijan to Israel, the delegation's visit and meetings. The author also highlighted the views of Fuad Muradov. The Chairman of SCWD spoke about the cooperation between the two countries in diplomatic, trade and other areas and mentioned that 70,000 Jews immigrated from Azerbaijan live in Israel and there is a tolerant attitude to Jews historically in Azerbaijan.
In addition, the third congress of the Azerbaijan-Israel International Association was published in detail in the website of the organization (Aziznews.ru), as well as the website of the international Jewish charity fund "STMEGI", and the meeting with "Modcon" company was highlighted in the website of the company.
Information on the visit of the delegation covered in Israel press can be found at the links below.
https://blogs.timesofisrael.com
https://stmegi.com
http://aziznews.ru
https://modcon.ru