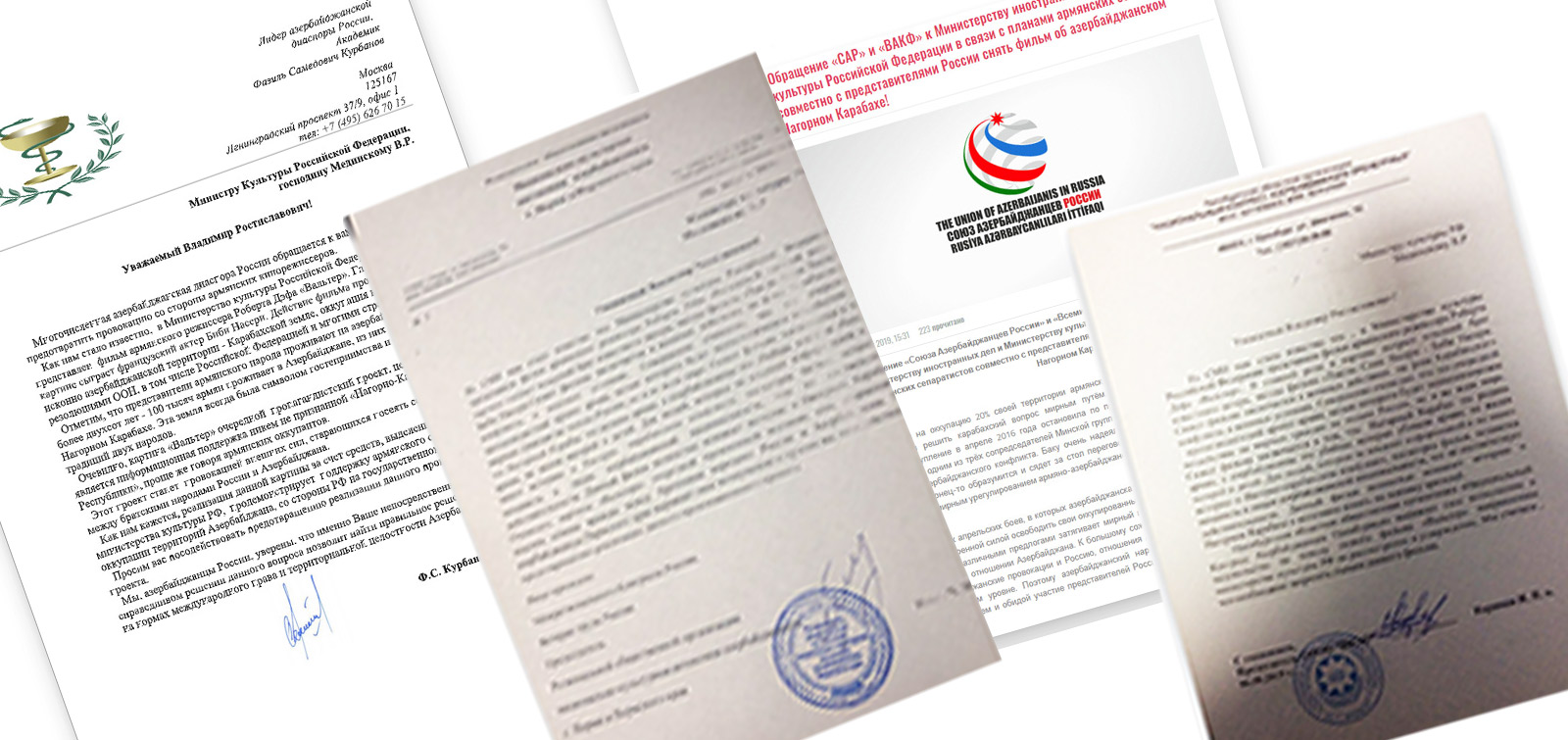 Our compatriots in Russia protest against the Armenian provocation
The reason was plan of Armenian separatists to shoot a film with Russian representatives about Azerbaijan's Nagorno-Karabakh region.
Academic Fazil Gurbanov, Azerbaijani Community of Moscow, National Congress of Azerbaijanis of Orenburg, National-Cultural Autonomy of Perm Azerbaijanis, Regional Public Organization "Azerbaijani Diaspora of Arkhangelsk Region", World Azerbaijan Cultural Fund and other diaspora organizations requested Russian Ministry of Culture and Ministry of Foreign Affairs to prevent Armenian director's provocation. "Walter" movie, of which leading actor is French actor Bibi Naceri and was introduced by Armenian director Robert Def to Russian Ministry of Culture have been condemned in the appeals. The appeals also state that the events in the film take place in Karabakh, the historical land of Azerbaijan. Occupation of Nagorno-Karabakh condemned by UN resolutions, including Russian Federation and many countries.
The authors of the appeals do not doubt that "Walter" is the next propaganda project and aims to provide information support to the unknown "NKR", or rather to the Armenian invaders: "This project is a provocation of foreign forces trying to sow the seeds of enmity between the fraternal peoples of Russia and Azerbaijan. It seems to us that the realization of this movie at the expense of budget funds of the Ministry of Culture of the Russian Federation demonstrates the state support by the Russian Federation to Armenian separatism and occupation of Azerbaijani territories. We ask you to prevent the implementation of this provocative project".
Our countrymen, who consider Russia a strategic partner of Azerbaijan, contributing to the strengthening of its economic power and serving to its national interests, are confident that the Russian authorities taking into account all of the above mentioned cases will achieve a fair and correct solution of the issue within the framework of international law and the territorial integrity of Azerbaijan.