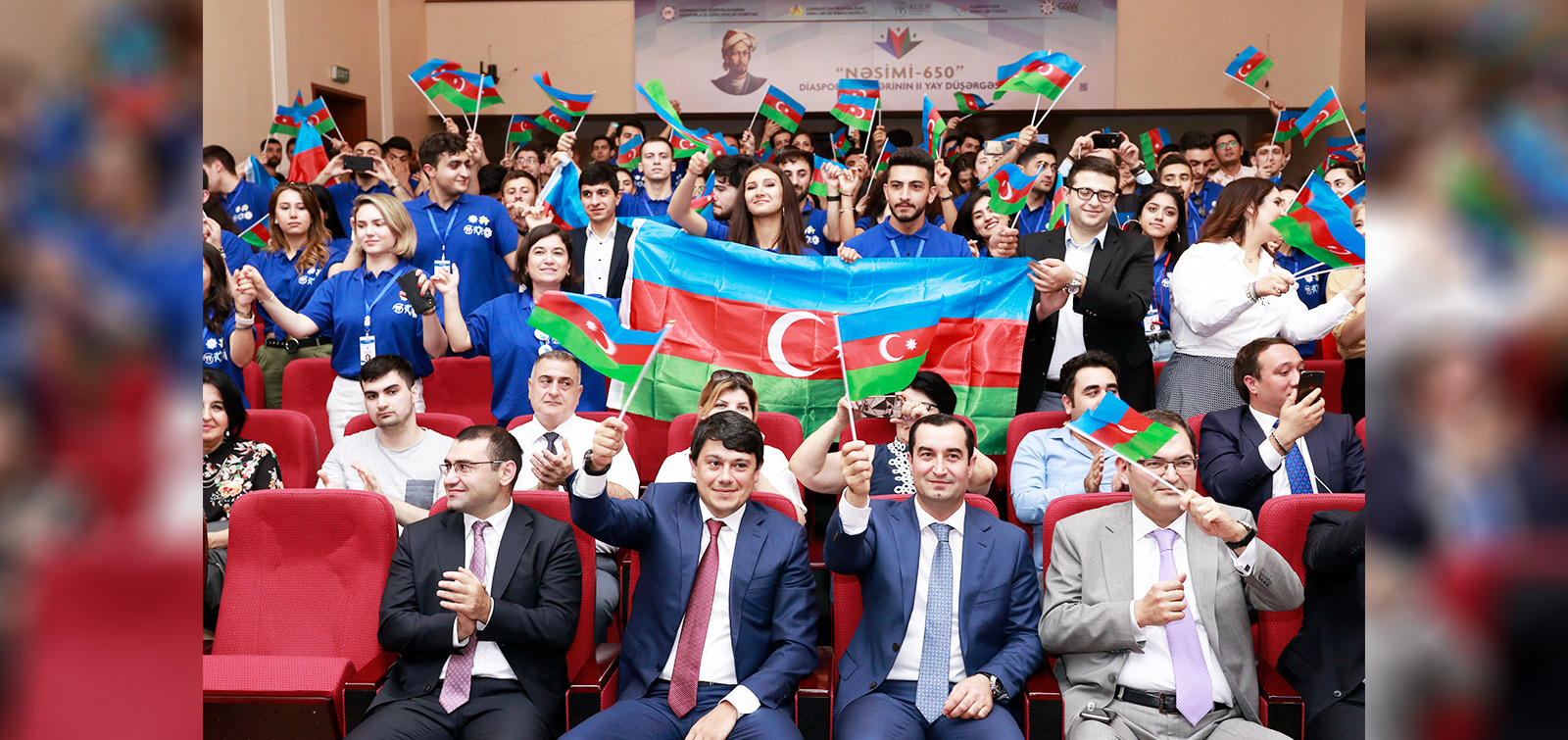 Opening ceremony of the II Summer Camp of Diaspora Youth was held
"Nasimi-650 Summer Camp of Diaspora Youth" kicked off. Firstly, camp participants visited the grave of great leader Heydar Aliyev in the Alley of Honor and commemorated his memory. Then the young people visited Alley of Martyrs to commemorate the martyrs who died for the freedom of our homeland.
The solemn welcoming ceremony of the camp participants was held in front of the statue of Imadeddin Nasimi in the center of Shamakhi.
On July 9, camp participants visited a monument of Heydar Aliyev in Shamakhi and laid flowers in front of the munument.
Then, the solemn opening ceremony of the camp was held at the Cultural Center. Head of Shamakhi Executive Power Tahir Mammadov welcomed the guests and estimated the gathering of world Azerbaijanis in ancient Shamakhi in Nasimi Year as a positive event.
Chairman of the State Committee on Work with Diaspora Fuad Muradov said that the Summer Camp of Diaspora Youths is organized for the second time and dozens of our compatriots living abroad came to their historical homeland within the large-scale project. The chairman of the committee gave detailed information on the essence of the camp, the place and goals of this project in the diaspora policy of the state and wished success to the participants.
Deputy Minister of Youth and Sport Intigam Babayev, Executive Director of Azerbaijan Youth Foundation Farid Jafarov, Executive Director Fund for Support to Azerbaijani Diaspora Elshad Aliyev, Leading Advisor of Socio- Political department of Presidential Administration Natig Aliyev and others spoke at the event. The speakers noted that the camp plays an irreplaceable role in strengthening the Azerbaijani diaspora movement, in the formation of a new generation diaspora, especially in the networking of young people living abroad.
Nasimi poetry, the mugam, folk and composer songs were performed in the artistic part and the event ended with banquet.
It should be noted that the program of II Summer Camp is very rich. The program includes meetings with heads of diplomatic missions abroad, meetings with ambassadors of some foreign countries to Azerbaijan, as well as public figures and media representatives, various trainings, excursions to historical places and so on.
The World Azerbaijanis Youth Forum is also planned to be held within the camp. The Summer Camp will end on July 14.