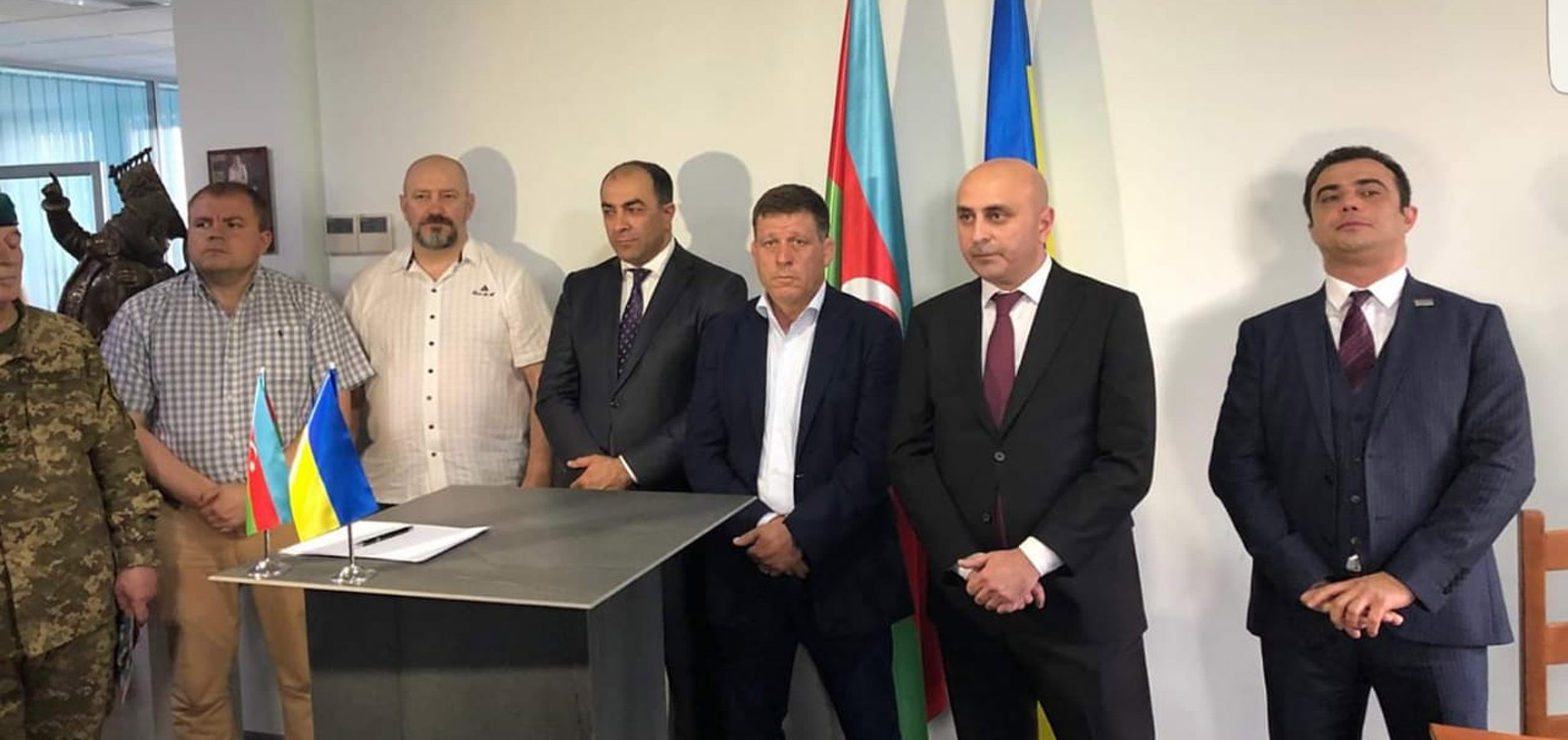 Ukrainian Azerbaijanis Rada`s headquarters inaugurated in Ukraine
On the eve of the Republic Day of Azerbaijan - May 27, the solemn opening ceremony of the Headquarters of the Rada of Ukrainian Azerbaijanis Rada (UAR) was held in Kiev.
UAR Co-Chairs Oleg Krapivin, Hikmat Javadov, Rovshan Tagiyev, UAR Secretary General Seyid Gadimaliyev, representative of the State Committee on Work with Diaspora Ruslan Guliyev, MPs of the Supreme Rada of Ukraine, representatives of the central and regional political elite of the country, representatives of the diplomatic corps, officials of the Ukrainian Ministry of Culture, representatives of the Muslim religious community, leaders of national and cultural communities, prominent figures of science, culture, arts and sports, media journalists from Azerbaijan, Ukraine and Turkey attended the event. O. Krapivin, H.Cavadov, R.Taghiyev, S.Gadimaliyev, and R.Guliyev cut the red ribbon. Then the opening ceremony was held in the office decorated with state flags of Azerbaijan and Ukraine. The event was moderated by Ukraine's well-known singer and journalist Natalia Kudryashova.
Addressing the participants of the event, R.Guliyev conveyed greetings of the Chairman of the State Committee on Work with Diaspora Fuad Muradov and congratulated our compatriots on the inauguration of new headquarters of the UAR and May 28 - Republic Day of Azerbaijan and wished them success in their activities.
O. Krapivin, H.Javadov, R.Taghiyev, S.Gadimaliyev, Ukrainian MP Sergey Melnuchuk, former Ambassador of Azerbaijan to Ukraine Talat Aliyev, spouse of Azerbaijani National Hero Rafel Asadov, Valentina Asadova, noted the historical importance of this event and congratulated event participants on Republic Day.
Within the framework of the event memorandums of cooperation were signed between UAR and large diaspora organizations of Kharkov and Dnipro. The documents were signed by Seyid Gadimaliyev, Murad Omarov and Hafiz Aslanov.
After the acquaintance with the headquarters of the UAR, the reception was held. It should be noted that UAR is the largest Azerbaijani community not only in Ukraine but also in the whole post-Soviet space, as well as the in Europe. The UAR includes "Congress of Kiev Azerbaijanis" (chairman Oleg Krapivin), "United Diaspora of Ukrainian Azerbaijanis" (head of Hikmet Javadov) and "United Congress of Ukrainian Azerbaijanis" (head Rovshan Tagiyev).