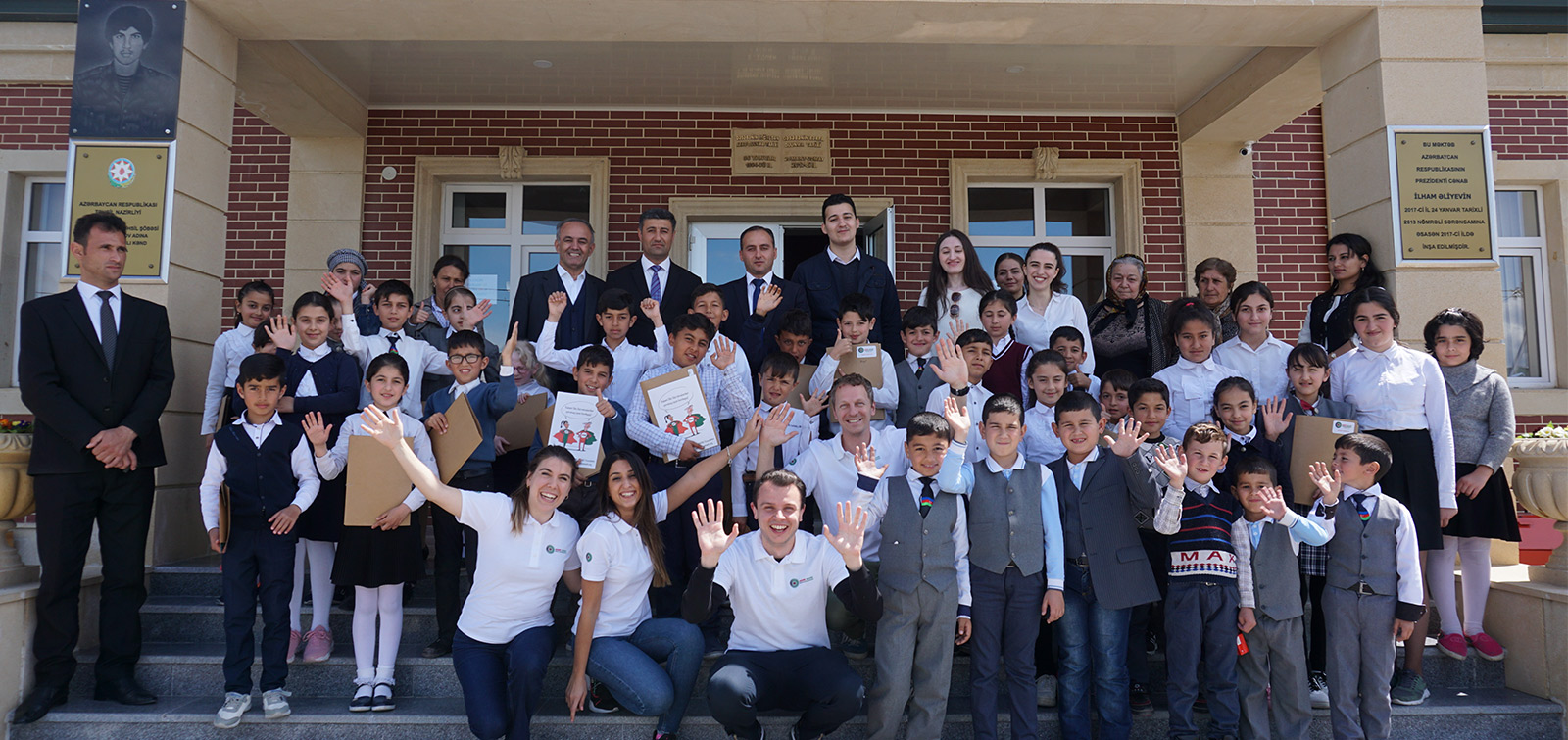 The visit of the Mine Mark Foundation ended
Subsequent to our previous publication, a delegation of the Mine Mark Foundation visited Azerbaijan from April 23rd till 26th 2019.
The visit was requested by the Mine Mark Foundation, and organized through the State Committee on Affairs with Diaspora of the Republic of Azerbaijan.
The delegation of the Mine Mark Foundation held several meetings with Azerbaijani state bodies. During these meetings they exchanged views on issues of mutual interest and future prospects for cooperation with State Committee on Affairs with Diaspora, the State Committee for Affairs of Refugees and Internally Displaced Persons, and the Azerbaijan National Agency for Mine Action.
The Foundation's delegation met with internally displaced persons settled in the Masazir settlement of Absheron region. They got acquainted with their living conditions and engaged with secondary school pupils through educational materials created and provided by the Mine Mark Foundation.
On April 25, the Mine Mark delegation, accompanied by the State Committee for Diaspora Affairs, visited the village of Jojuq Mehjanli located in the Jabrayil region. During a meeting with pupils at the secondary school, named after Novruz Aslanov in Jojuq Marjanli village, detailed information on mine safety was provided and various educational games were played with the children. Mine Mark's heroes and games made a great impression on the pupils.
The Mine Mark Foundation's visit to Azerbaijan was discussed with the Azerbaijani diaspora during the meeting of Fuad Muradov, chairman of the State Committee on Affairs with Diaspora in November 2018 in the Hague, the Netherlands.
It should be noted that the Mine Mark Foundation is a non-governmental organization. The organization was founded in the Hague, the Netherlands by Lala Mustafazade- van der Kolk, a member of the Azerbaijani Diaspora in The Hague, the Netherlands and German national Nils Hegel. The foundation is a mine risk education initiative which aims to protect children from harm by landmines, cluster ammunition and explosive remnants of war in the conflict zones. Mine Mark makes the mine risk education guidelines accessible to children by translating them into cartoons and games. The Mine Mark cartoons are drawn by the well-known German graphic designer Christine Ball and translated into Azerbaijani language.