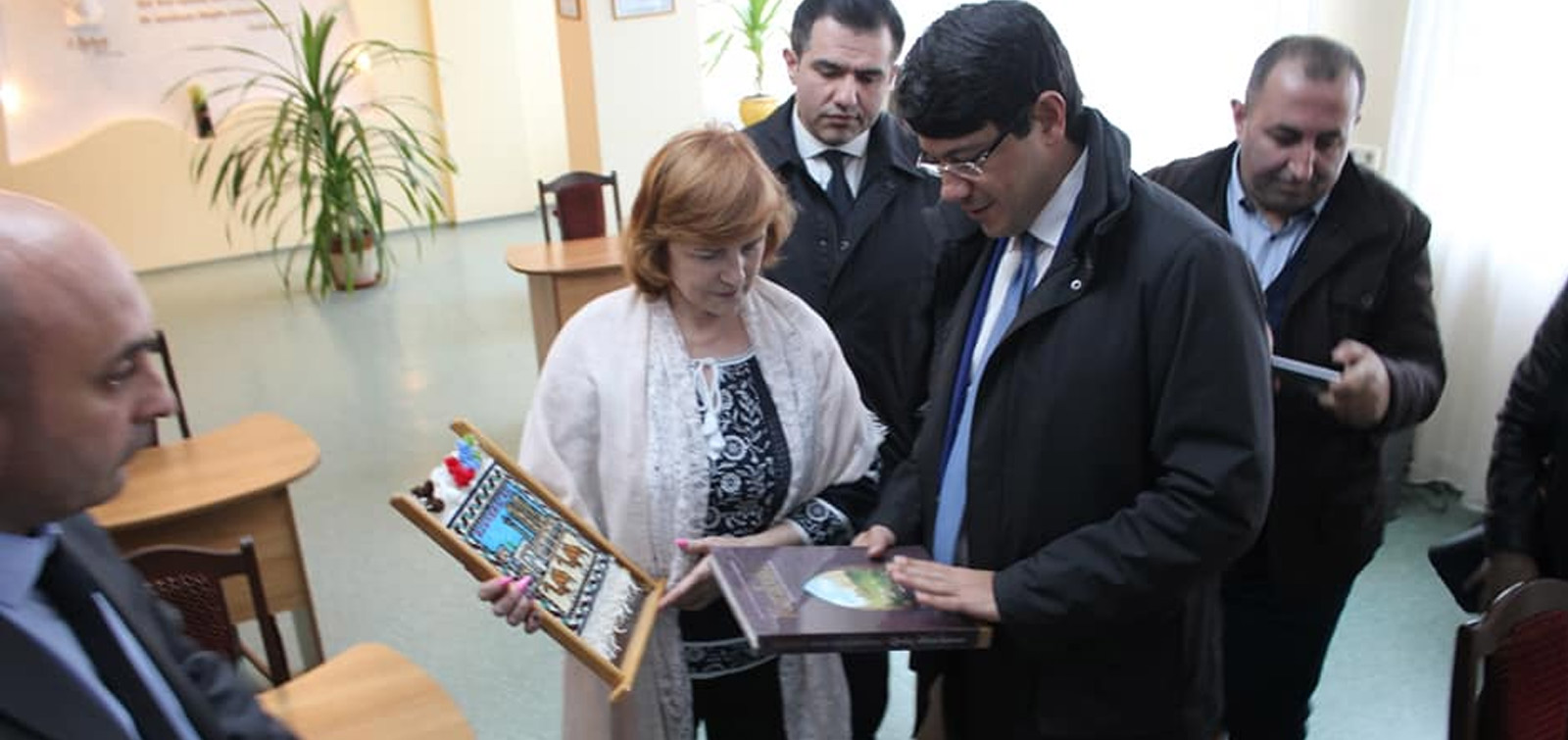 The Chairman of the State Committee visited the Kiev Library named after Samad Vurgun
Chairman of the State Committee on Work with Diaspora (SCWD) Fuad Muradov and diaspora leaders in Ukraine visited the Kiev Library after Samad Vurgun. The Chairman of the Committee put flowers at the bust to Samad Vurgun, which is in front of the library. Then the director of the library Galina Chebotareva informed that publications about national leader Heydar Aliyev, President Ilham Aliyev, books of Azerbaijani classics and representatives of modern literature of Azerbaijan are kept here in Ukrainian language. Stating that books about Azerbaijan are of interest to readers, she said that in the future, the work on enriching the library with such publications will continue.
Noting that favorable conditions have been created in the library, Chairman stressed that the library has an indispensable role in promoting Azerbaijani literature in Ukraine. Speaking about the literary relations of the two countries, the Chairman stressed that the books of Azerbaijani and Ukrainian writers should be translated and published. At the end, gifts were presented to the library on behalf of the Committee.
The delegation also got acquainted with the activity of the "Bakinets" sports club in Kyiv. Oleg Krapivin, Chairman of the Office of the Congress of Ukraine Azerbaijanis in Kyiv (CUAK), 14 times Azerbaijani champion wrestler gave information about the sports club under CUAK. He informed guests about the conditions created here for the athletes and said that the club's representatives represented the country in prestigious sports competitions.
The Chairman of the SCWD highly appreciated the contribution of the Ukrainian Azerbaijanis to the country's sport. He said that Azerbaijanis living abroad are gaining success in international sports competitions: "All this makes us happy".
F. Muradov noted that Azerbaijan is known as a sport country in the world and successfully hosts many prestigious international sports competitions.
F. Muradov emphasized the importance of increasing the number of such sports schools in Ukraine.