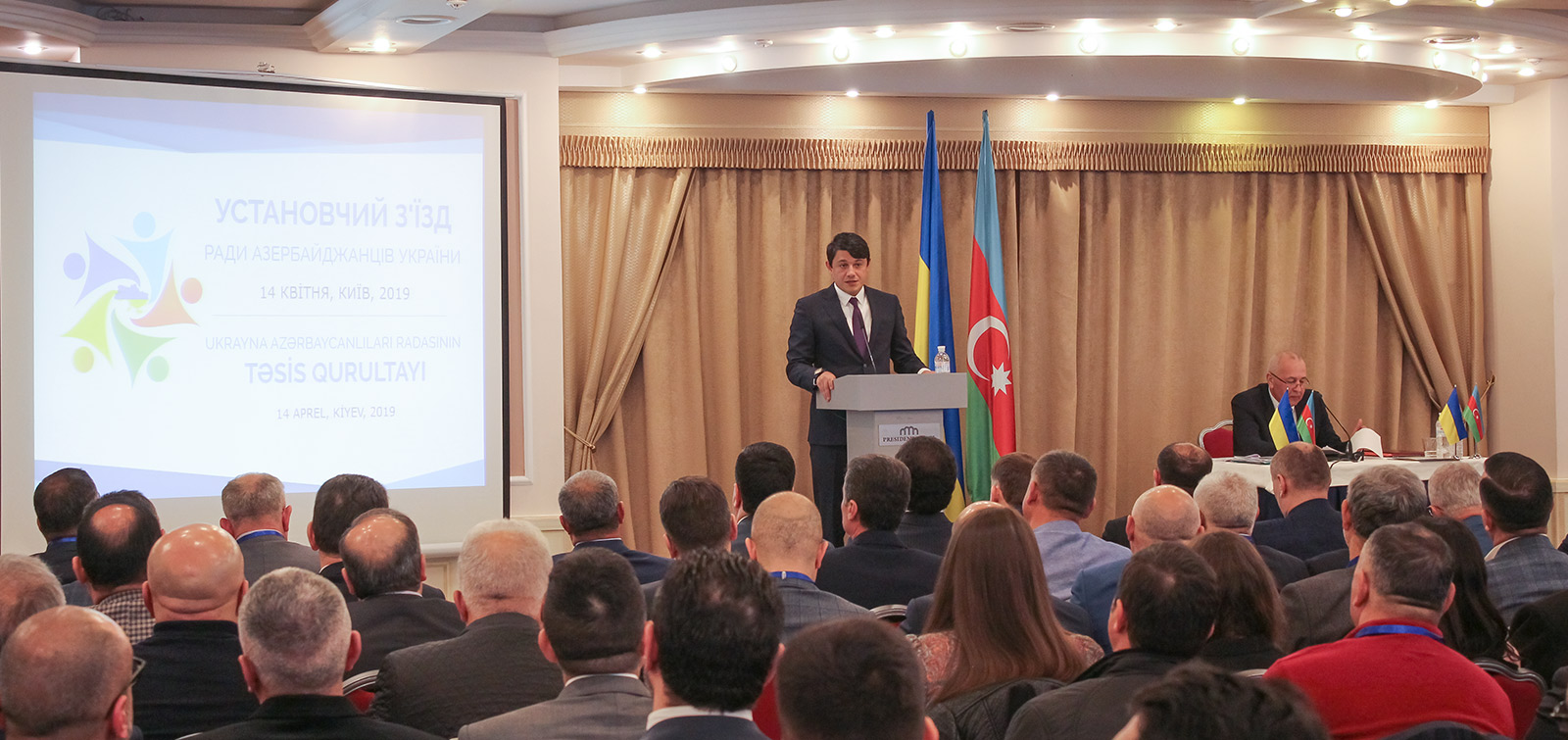 Founding congress of Ukrainian Azerbaijanis Rada was held
The founding congress of the newly founded Ukrainian Azerbaijanis Rada (UAR) was held in Kiev. Before the congress, chairman of the State Committee on Work with Diaspora Fuad Muradov and participants of the congress visited the monument to the national leader in the Park named after Heydar Aliyev and laid flowers at the monument. Deputies of the Verkhovna Rada of Ukraine, officials of the Ministry of Culture, Ambassador of the Republic of Azerbaijan to Ukraine Azer Khudiyev and public and political figures participated in the congress, starting with the the national anthems of Ukraine and Azerbaijan.
Speaking about the unity of diaspora organizations, Fuad Muradov, chairman of the State Committee on Work with Diaspora, said that this unity was achieved in many countries. At the initiative of our compatriots, our countymen in Germany, France, Switzerland, Finland, the Netherlands and Belgium have united in these coordination councils: "Our compatriots living in these countries works together and implement joint projects. These were the first in the history of the Azerbaijani diaspora." He expressed confidence that the Ukrainian Azerbaijanis Rada would also get many achievements. The chairman of the State Committee said that according to the instructions of President Ilham Aliyev, all possible work is done for the unity of our compatriots living abroad, their integration to the society they live in, the strengthening of their relations with Azerbaijan and these acts will be continued in the future.
Member of the Verkhovna Rada of Ukraine Borislav Beryoza, noted that his country is known as a multinational state and there are favorable conditions for all nations here: The Azerbaijanis living in Ukraine are actively involved in the socio-political life of our country. They contribute to the development of Ukraine ". He expressed his confidence in his speech that Azerbaijan will regain it's occupied territories.
Another member of the Verkhovna Rada, Giorgi Meparashvili, spoke about the friendly relations between Ukraine and Azerbaijan and said the new organization will stimulate the effective activity of the Azerbaijanis. Other speakers wished success to the work of the organization in their speeches.
As a result of the voting, chairman of the United Congress of Ukrainian Azerbaijanis Rovshan Taghiyev, chairman of the United Diaspora of Ukrainian Azerbaijanis Hikmat Javadov, chairman of the Kiev Azerbaijanis Congress Oleg Krapiv, were elected co-chairs of the UAR. Seyid Gadimaliyev was appointed Secretary General of the UAR. As well as, five members from each 3 main organizations were elected as members of the Board.
Then, an appeal was addressed to the President of Azerbaijan Ilham Aliyev. At the end of the official part of the event, presentation of the Fund for Support to Azerbaijani Diaspora was held and the questions of diapora members were answered.
After the founding congress of the Ukrainian Azerbaijanis Rada, a concert program dedicated to the event and the 650th anniversary of Nasimi was held.