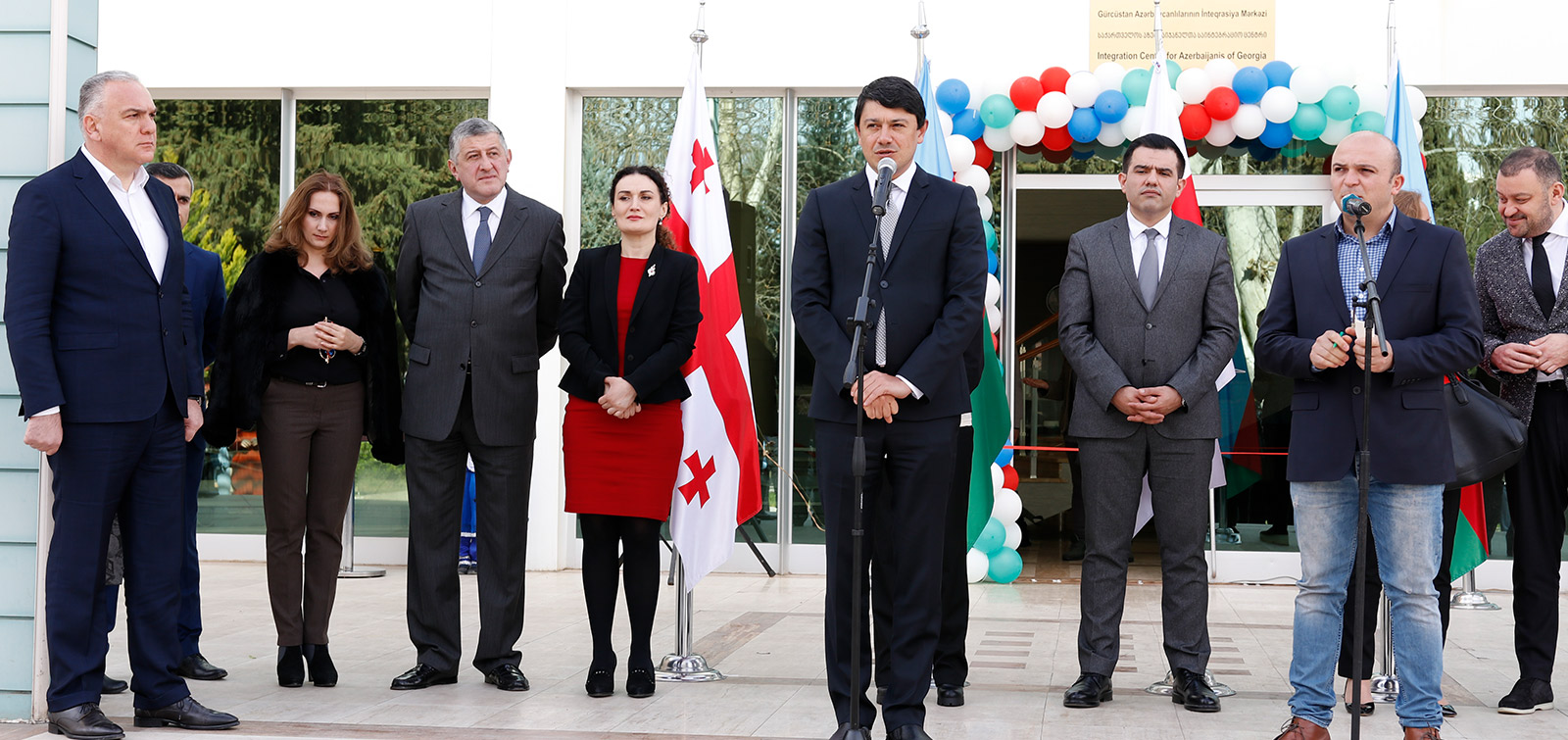 Opening ceremony of Integration Center of Azerbaijanis was held in Marneuli
On April 3 opening ceremony of Integration Center of Azerbaijanis was held in Marneuli, Georgia.
Chairman of the State Committee on Work with Diaspora Fuad Muradov, State Minister for Reconciliation and Civic Equality Ketevan Tsikhelashvili, Ambassadors of Azerbaijan and Turkey to Georgia Dursun Hasanov and Fatma Jeren Yazgan, Azerbaijani deputies of Georgian Parliament Mahir Derziyev, Azer Suleymanov, Savalan Mirzoyev, Governor of Kvemo Kartli-Borchali region Shota Rekhivashvili and other government officials, local intelligentsia and social activists attended the event.
Chairman of the State Committee Fuad Muradov delivered greetings of Azerbaijani President Ilham Aliyev to participants of the event and said that the friendship is indestructible and the relations are strengthened between the two countries. F. Muradov reminded that last year local youth suggested the proposal on the opening of integration center in Marneuli: "The opening of the center is a very important project and I hope this place will support the solution of some problems that concern local Azerbaijanis".
Shota Rekhviashvili called the opening of the integration center in Marneuli as an important event and noted that the Georgian government pays great attention to the integration of Azerbaijani citizens. K. Tsixelashvili expressed her opinion so: "The diversity of Georgia is a value and this value should be preserved. Integration of national minorities living in the country to civil society should be done in such a way that their ethnic and national identity should be preserved". Executive Director of the Integration Center of Georgian Azerbaijanis Aygul Isayeva said that the main goal of the center is to deepen existing relations between Azerbaijan and Georgia in the fields of science, education, culture and sport and to support the integration of local Azerbaijanis into civil society.
After the official opening ceremony, the guests got acquainted with the conditions in the ICGA. At the end of the event national dances of Azerbaijan and Georgia were performed for the event participants. Chairman of the State Committee on Work with Diaspora F.Muradov told journalists after the event that Azerbaijan will support the activity of integration centers in Georgia in the future. He noted that about 300 young people were registered in the Integration Center of Georgian Azerbaijanis in Marneuli: "The courses in the 9 directions will be held in the Center. The Azerbaijani youth of Georgia can play a more important role in the socio-political life of the country, if they are knowledgeable and educated". The chairman of the State Committee said that Azerbaijanis living in Georgia are loyal to statehood, hardworking and patriotic: "Azerbaijan and Georgia can achieve great results in the integration of Georgian Azerbaijanis with joint efforts."