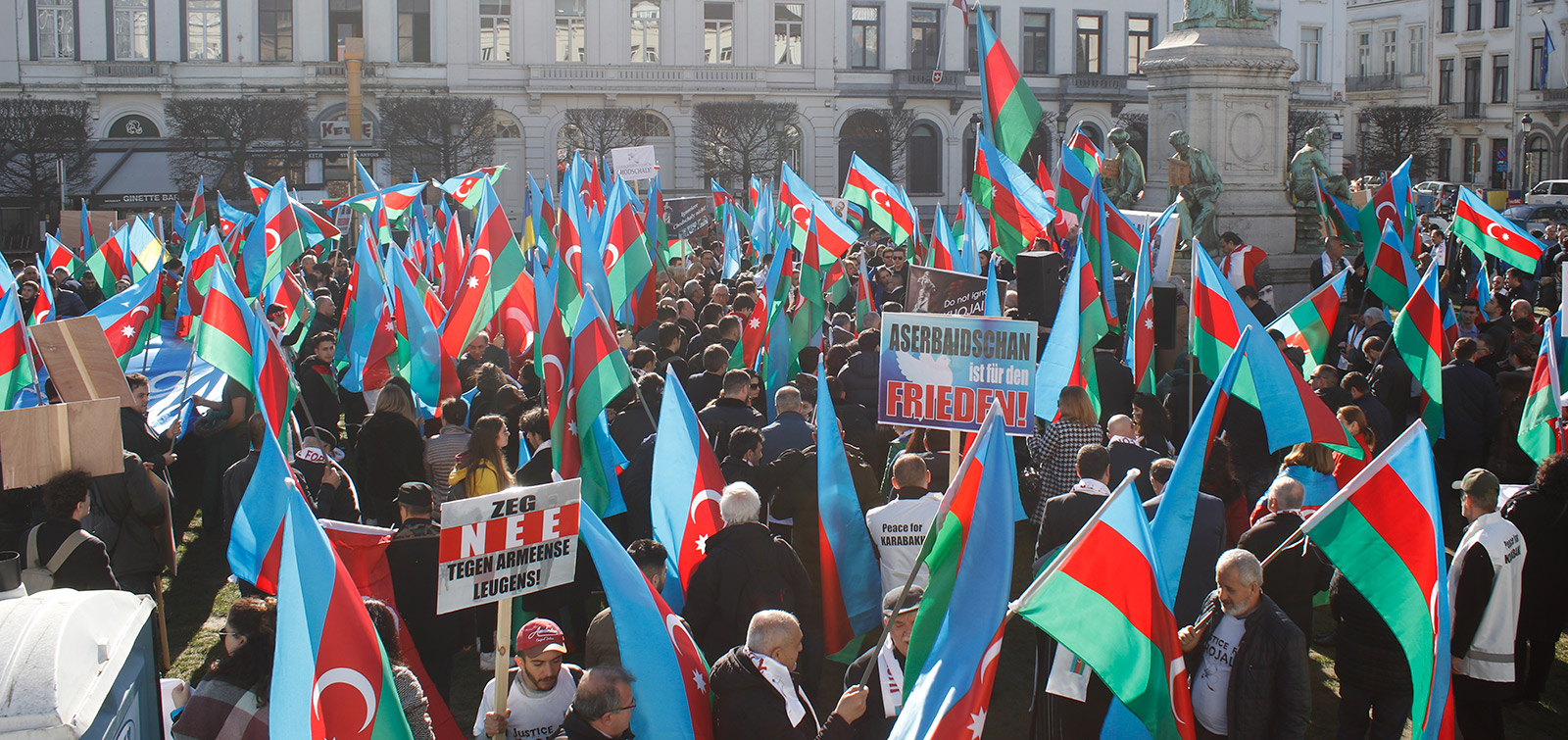 European Azerbaijanis held crowded European Karabakh rally in Brussels
On the eve of the 27th anniversary of the Khojaly genocide, a crowded rally on the recognition of the Khojaly genocide and the Karabakh realities has been staged in the EU's political center – Brussels, the Kingdom of Belgium. The rally brought together nearly 800 Azerbaijanis from different European countries, and diaspora members of friendly peoples to Azerbaijan.
The rally, which started with the performance of Azerbaijan's national anthem, was moderated by Gasim Nasirov, Coordinator of the Coordination Council of Azerbaijanis in Switzerland, and Gunel Safarova, Chairwoman of the France-Azerbaijan Dialogue Association.
Representatives of Azerbaijani diaspora organizations appealed to the European Parliament, international organizations with slogans such as "Justice for Khojaly!", "Azerbaijan wants peace!", "Don't kill innocent children!", "Stop the Armenian lies!", "Stop the occupation!", "We want to return to Karabakh!", "Freedom for Dilgam and Shahbaz" in English, German, French, Italian, Romanian and other languages.
The rally participants demanded ensuring legal and political recognition of Khojaly genocide committed by Armenia 27 years ago, exerting pressure on Armenia to return Azerbaijan`s occupied territories, restoring the rights of the Azerbaijanis who were expelled from their native lands, releasing all Azerbaijani captives and hostages, including Dilgam Asgarov and Shahbaz Guliyev, and forcing Armenia to obey the conflict-related international documents.
At the end of the rally a statement was presented to up to 2000 addresses, including officials from the European Parliament, international organizations, embassies, and many heads of state and government.
During the rally, leaflets reflecting the severe consequences of the Armenia-Azerbaijan Nagorno-Karabakh conflict, as well as material and moral losses of Azerbaijan as a result of Armenia's aggressive policy were distributed to the local residents and tourists.
Media representatives also attended the rally. The rally was widely covered in mass media as well as in social networks.