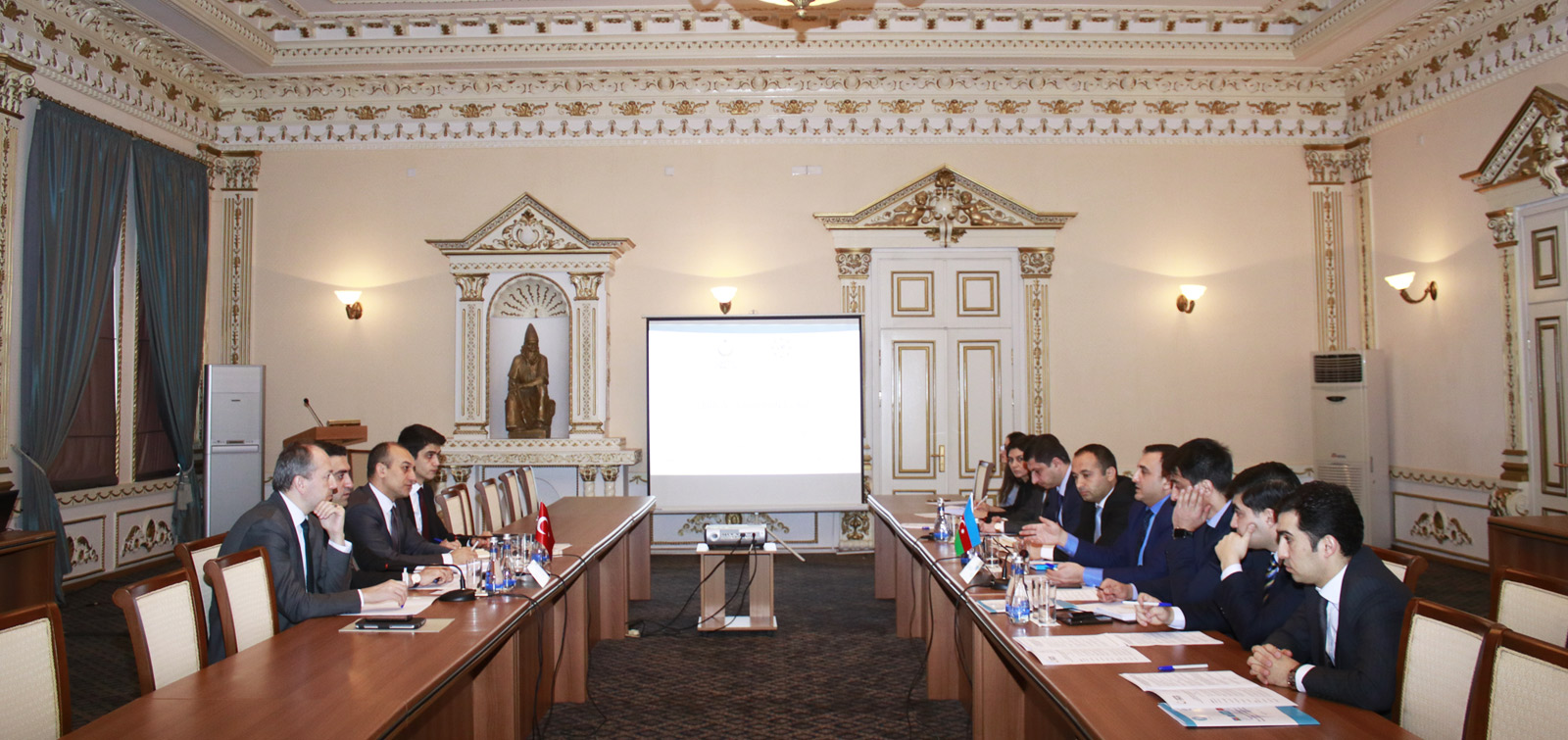 Concrete steps were discussed on the cooperation between Azerbaijan and the Turkish diaspora
The first meeting of the Joint Working Group between the State Committee on Work with Diaspora of the Republic of Azerbaijan and the Presidency of the Turks Abroad and Related Communities of Turkey (YTB) was held. The meeting discussed the issues arising from the Memorandum on cooperation between the State Committee and YTB, signed on November 2018 in Ankara, made concrete proposals and exchanged views on their implementation.
Head of apparatus of SCWD Dashgin Rajabli stressed that the Azerbaijani and Turkish diasporas have been cooperating for many years and this cooperation would be strengthened as a result of the joint efforts of the State Committee and YTB. He noted that it would strengthen the coordination between Azerbaijani and Turkish societies in the international arena in order to struggle with Armenian lies. Deputy chairman of the YTB Abdulhadi Turus talked about the work experience of their organization on youth and spoke about providing scholarships for foreign students studying in Turkey and Turkish students studying abroad and establishing coordination among them. As well as, he noted that the talented Turkish youth abroad was supported by the Turkey government, and the Turks living abroad are trained on their rights and freedoms in the countries where they live. A.Turus said that cooperation with Azerbaijani diaspora within the framework of these and other projects would be more effective.
Joint projects aimed at delivering the truths on so-called Armenian genocide, as well as the Khojali tragedy, the Karabakh realities, developing an action plan at the academic level for Azerbaijani and Turkish diasporas' struggle against discrimination, racism and Islamophobia, implementing of joint cultural, socio- economic projects for the purpose of protecting the common cultural values and raising the socio-economic level were discussed at the meeting. The proposals on organizing of a business forum of Azerbaijani and Turkish businessmen within the framework of the Turkish Diaspora Forum in Turkey in November this year, strengthening the relations between the Azerbaijani and Turkish communities and diasporas of other nations, taking concrete steps in appointing common candidates during elections to local governments in several countries, and organizing of forum of Azerbaijani and Turkish youth abroad and other proposals were made in the meeting. The Working Group agreed on the drafting and implementing of the Action Plan on the mentioned issues in the near future.
After the meeting, the guests met with the employees of the departments to get acquainted with the activities of the SCWD. They were informed about the work of each department. At the end, the souvenirs were presented to the guests.
It should be noted that the YTB representatives arrived in Baku to participate at the opening ceremony of the exchange program between the ministries and agencies responsible for diaspora issues of the member states of the Cooperation Council of Turkic Speaking States (CCTS - the Turkish Council) and 5th meeting of Contact Group of the Turkish Council.