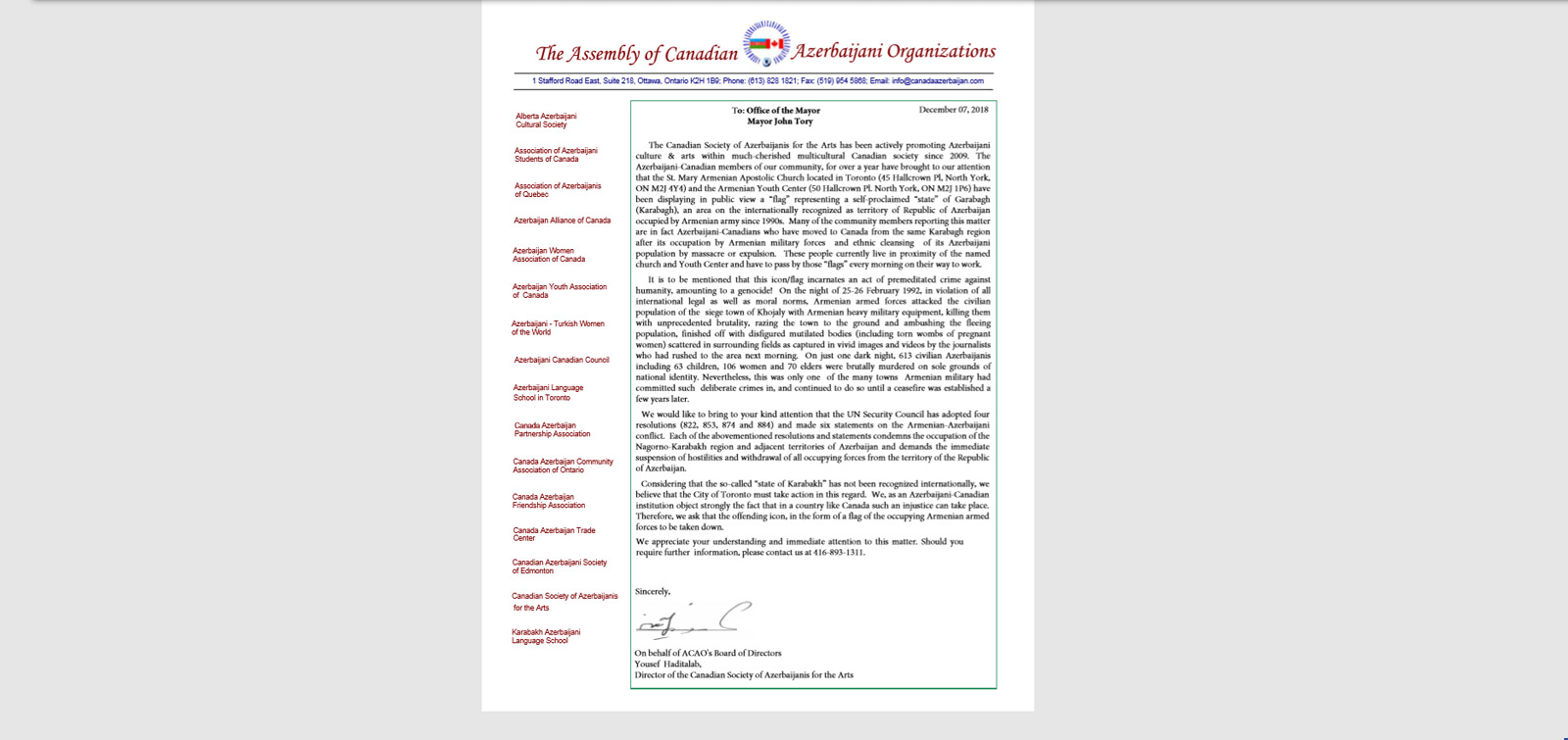 Our compatriots living in Canada protest against Armenian provocation
The Canadian Society of Azerbaijanis for the Arts has been actively promoting Azerbaijani culture & arts within much-cherished multicultural Canadian society since 2009. The Azerbaijani-Canadian members of our community, for over a year have brought to our attention that the St. Mary Armenian Apostolic Church located in Toronto (45 Hallcrown Pl, North York, ON M2J 4Y4) and the Armenian Youth Center (50 Hallcrown Pl. North York, ON M2J 1P6) have been displaying in public view a "flag" representing a self-proclaimed "state" of Garabagh (Karabagh), an area on the internationally recognized as territory of Republic of Azerbaijan occupied by Armenian army since 1990s. Many of the community members reporting this matter are in fact Azerbaijani-Canadians who have moved to Canada from the same Karabagh region after its occupation by Armenian military forces and ethnic cleansing of its Azerbaijani population by massacre or expulsion. These people currently live in proximity of the named church and Youth Center and have to pass by those "flags" every morning on their way to work.
It is to be mentioned that this icon/flag incarnates an act of premeditated crime against humanity, amounting to a genocide! On the night of 25-26 February 1992, in violation of all international legal as well as moral norms, Armenian armed forces attacked the civilian population of the siege town of Khojaly with Armenian heavy military equipment, killing them with unprecedented brutality, razing the town to the ground and ambushing the fleeing population, finished off with disfigured mutilated bodies (including torn wombs of pregnant women) scattered in surrounding fields as captured in vivid images and videos by the journalists who had rushed to the area next morning. On just one dark night, 613 civilian Azerbaijanis including 63 children, 106 women and 70 elders were brutally murdered on sole grounds of national identity. Nevertheless, this was only one of the many towns Armenian military had committed such deliberate crimes in, and continued to do so until a ceasefire was established a few years later.
We would like to bring to your kind attention that the UN Security Council has adopted four resolutions (822, 853, 874 and 884) and made six statements on the Armenian-Azerbaijani conflict. Each of the abovementioned resolutions and statements condemns the occupation of the Nagorno-Karabakh region and adjacent territories of Azerbaijan and demands the immediate suspension of hostilities and withdrawal of all occupying forces from the territory of the Republic of Azerbaijan.
Considering that the so-called "state of Karabakh" has not been recognized internationally, we believe that the City of Toronto must take action in this regard. We, as an Azerbaijani-Canadian institution object strongly the fact that in a country like Canada such an injustice can take place. Therefore, we ask that the offending icon, in the form of a flag of the occupying Armenian armed forces to be taken down. We appreciate your understanding and immediate attention to this matter.