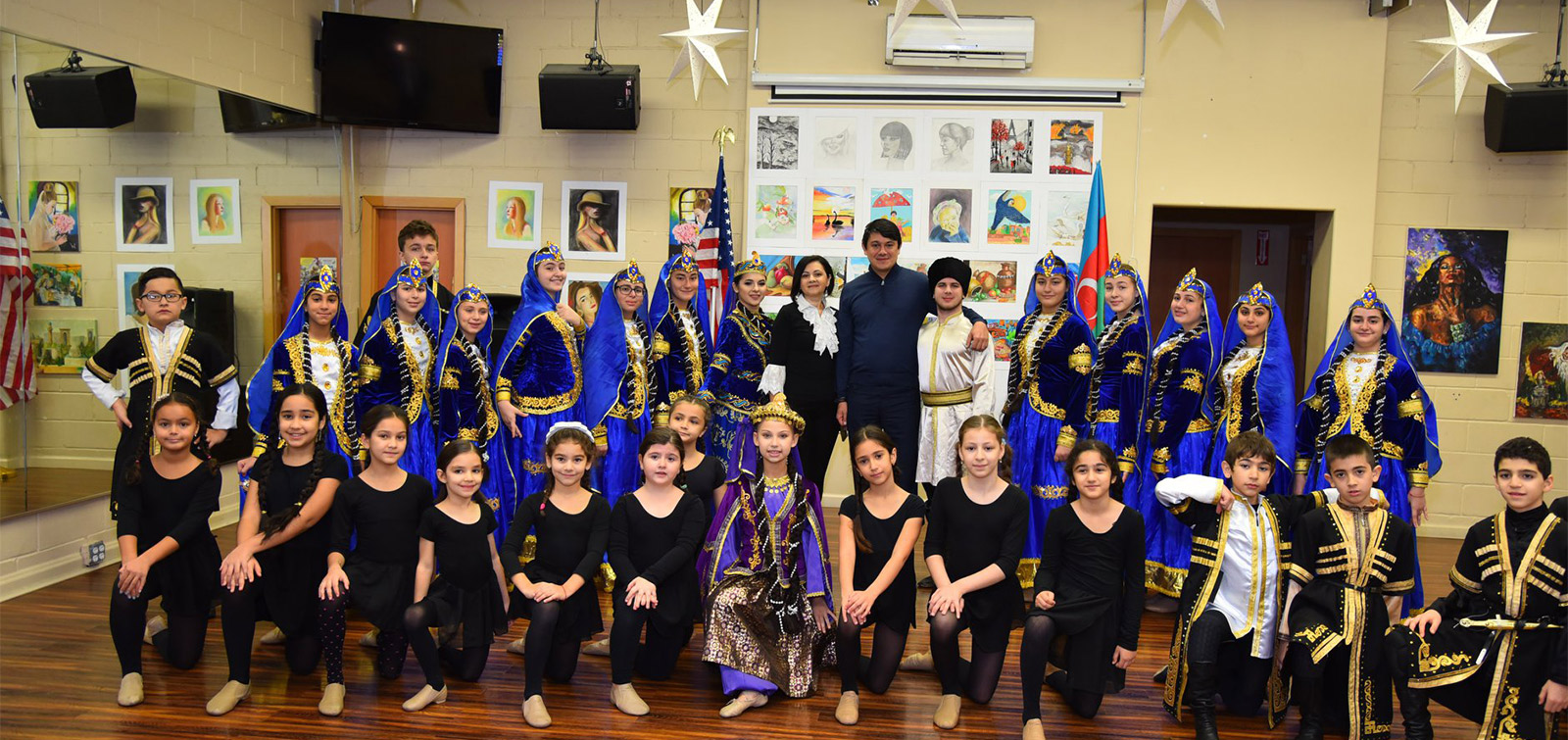 The delegation of the State Committee continued their meetings in New York
During the visit to the United States, the delegation of the State Committee on Affairs with Diaspora, on the second day of New York meetings, began a tour to the children's exhibition- "My World, My Way", which was organized by the "My Way" Child and Youth Development Center. In the event, which was held with the support of the State Committee, the delegation had look to the children's handmade and gave information to our little compatriots about our country. In the event attended not only Azerbaijani children, but also other children from the United States, dancing under the sounds of our national music.
Head of departments of the State Committee Vugar Mammadov and Salhat Abbasova attended the screening of our film by our compatriots "Do not shoot to our heritage". The film shown at the City Hall of Brooklyn was taken in Azerbaijan. The basic subject of the film is about Nagorno-Karabakh conflict, occupation of our lands, the Khojaly genocide, and about the occupation policy of Armenia.
The delegation also attended to the musical event "Azerbaijan Multiculturalism, which organized with the support of the State Committee. Speaking at the event in the famous Lincoln Center, the Chairman of the State Committee noted that Azerbaijan is a country tolerant, multinational and cultured.
He spoke about the work carried out in the direction of the development and development of multicultural traditions in our country. At the same time, he emphasized the importance of such events in terms of closer integration of different cultures and people of these cultures.
The Ambassador Extraordinary and Plenipotentiary of Azerbaijan Republic to the United States Elin Suleymanov and Permanent Representative to the United Nations Yashar Aliyev, our compatriots and foreign guests also participated in the concert program. The event, which lasted for two hours, was widely presented to the guests.
The next meeting held with Mr. Eric Adams, Mayor of Brooklyn. It should be noted that Brooklyn is a city in which many of our compatriots live. By greeting the delegation at the City Hall, Eric Adams expressed his views about the Azerbaijanis living in Brooklyn, about the Republic of Azerbaijan, and about the active life of Azerbaijanis in America. The Chairman of the State Committee welcomed the mayor and shared his views about our country and Diaspora organizations. It was emphasized that there are all opportunities for normal activity of our compatriots and diaspora organizations. It was discussed the future cooperation opportunities during the meeting, and Mayor Mary was invited to our country.