The Canadian press wrote about France's anti-peace policy
6 December, 2022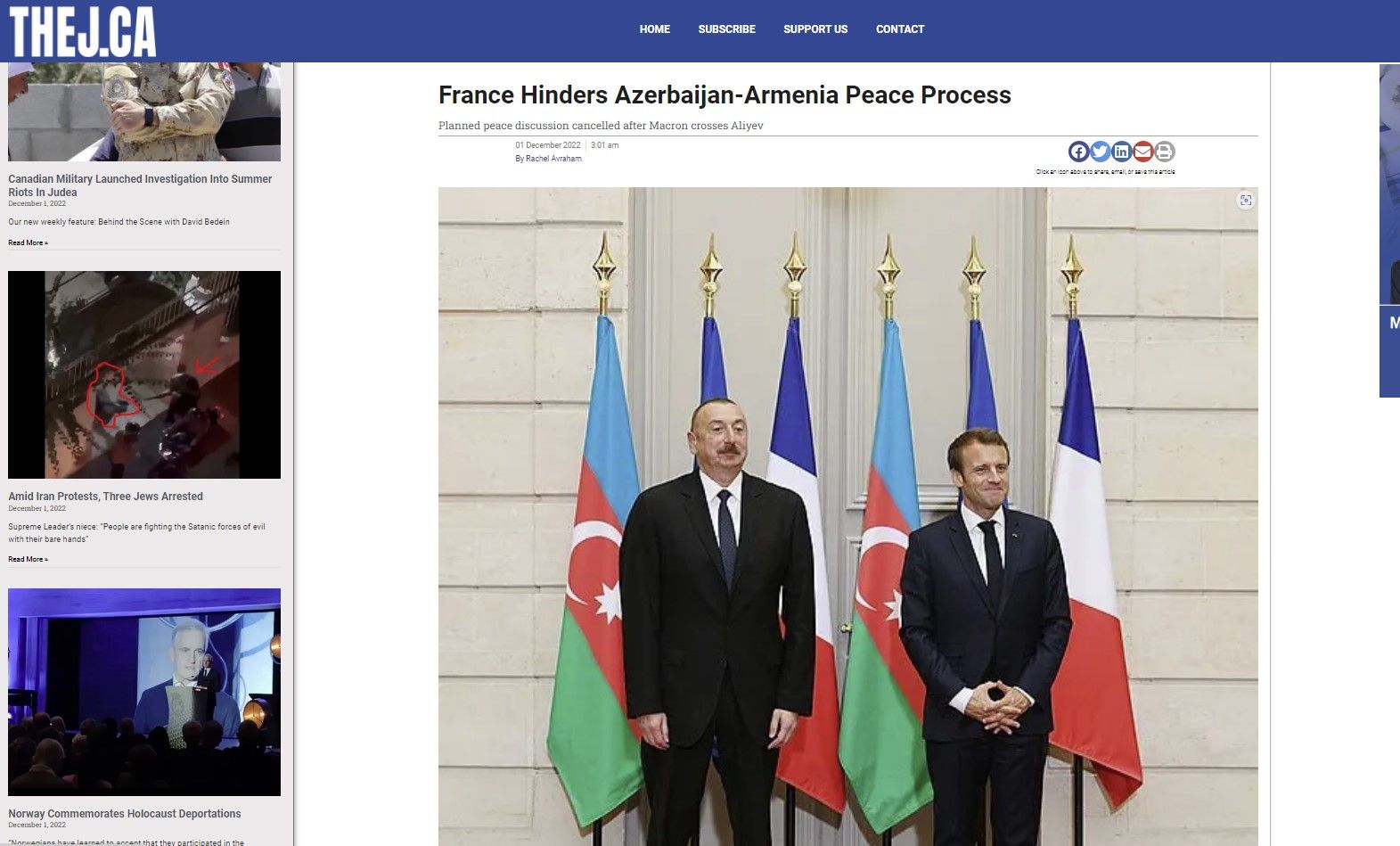 A  Canadian Jewish media platform Thej.ca published an article titled " France Hinders Azerbaijan-Armenia Peace Process" .
The author of the article is Rachel Avraham, a well-known Israeli political scientist and journalist, founder and CEO of the Dona Gracia Diplomacy Center. The article stresses: "The French Senate adopted a resolution calling for sanctions to be imposed on Azerbaijan and for France to recognize the Nagorno-Karabakh Republic, an Armenian separatist entity established within Azerbaijani territory in violation of four UN Security Council resolutions.  This Armenian entity has about as much international legitimacy as the Hamas government in the Gaza Strip, yet the French Senate calls for them to obtain international recognition".  
Then the author adds: "Adding fuel to the fire, the French Senate also called upon Azerbaijan to withdraw from "Armenian territory" last September during the escalation of violence between both countries, even though there has been no delineation of borders between the two post-Soviet republics. Yet France ignored the Azerbaijani deaths and took a one-sided approach to the issue, even though the ones who started the border confrontation were Armenian saboteurs.  Although the French Senate resolution was non-binding and has no legal force, this resolution still severely hinders the peace process between both countries. This is the case especially considering the fact that French President Emmanuel Macron has also made biased pro-Armenian statements. Even though he never called for the recognition of the Nagorno-Karabakh Republic, he did claim that Karabakh was "disputed territory," even though these lands have been recognized as part of Azerbaijan under four UN Security Council resolutions.
Azerbaijan's President Ilham Aliyev had canceled a meeting planned for December 7 that was to include the head of the EU and Macron. He asserted Macron has adopted an "anti-Azerbaijan position" and was "insulting Baku," and thus should play no role in the peace talks: "Macron … attacked Azerbaijan and accused us of what we haven't done. It is clear that under these circumstances, with this attitude, France cannot be part of the peace process between Azerbaijan and Armenia."
Click below the link to read the article:
https://www.thej.ca/2022/12/01/france-hinders-azerbaijan-armenia-peace-process/